Western Australia's DIA Design Awards were announced on Friday 1 November at a Perth landmark, the foyer of the newly refurbished 108 St George's Terrace. Now in its eleventh year, the awards, run by the WA Chapter of the Design Institute of Australia (DIA), recognize three main design disciplines: Interior Spaces, Product Design and Visual Communication.
Taking the top prize, the Best in State Award and an Award of Merit in the Interior Spaces (Public) category, was Cameron Chisholm Nicol and ARM Architecture (joint venture) for Perth Arena (Read the Archietcture Australia review). In making this award, the judges described the interior as "a versatile entertainment venue that provides an exhilarating experience. Innovative use of materials, form and colour along with best practice technology have come together to deliver a truly exceptional public space."
Officially opened during the awards presentation, an exhibition of 2013 entries will be on displayed in the foyer of 108 St George's Terrace, 1–15 November, 2013.
Best in State
Perth Arena – Cameron Chisholm Nicol and ARM Architecture (joint venture)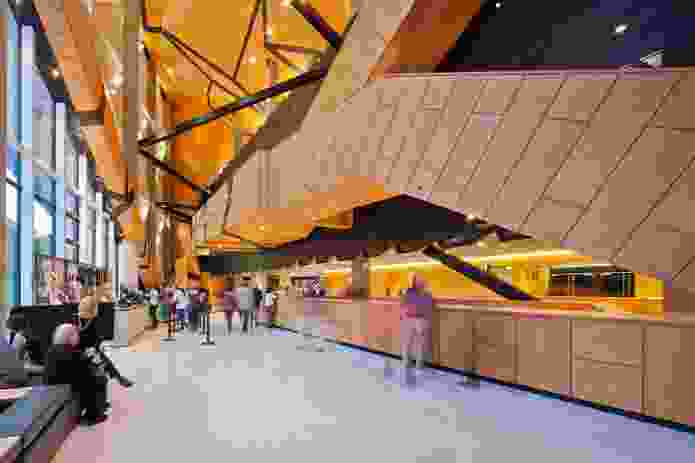 Professional Awards: Interior Spaces
Public/Institutional Award of Merit
Perth Arena – Cameron Chisholm Nicol and ARM Architecture (joint venture)
Commendations
JSRACS Kindergarten (Beechboro Campus) – Brooking Design Architects Australia
Office of the Premier & Cabinet Room – Cox Howlett & Bailey Woodland
Corporate Award of Merit
Australian Finance Group – Hassell
"Simple rationalized planning techniques and sophisticated material palette"
Commendation
Norman Disney & Young – MKDC
Hospitality Awards of Merit
Perth Arena – Cameron Chisholm Nicol and ARM Architecture (joint venture)
The Peasant's Table restaurant – Taylor Robinson
"Rustic-inspired, designed to encourage community engagement"

Commendation
Trustee Bar and Bistro – Bremick Group
Residential Award of Merit
CASA31_4 Room House – Caroline Di Costa Architect and Iredale Pedersen Hook (joint venture)
"Pushes the boundaries of residential building"
Professional Awards: Visual Communication
Corporate Commendation
The Mix Frozen Yoghurt & Drinks Bar – Red Meets Blue
Student Awards: Product Design
Fashion Award for Merit
Wholegarment Fashion – Seth Cray of Curtin University of Technology
Furniture Commendations
Grain Stool – Callum Campbell & Jack Flanagan of Central Institute of Technology
November Lounge Chair – Callum Campbell of Central Institute of Technology
Student Awards: Interior Spaces
Corporate Commendation
Hassell – Samuel Wee of Central Institute of Technology
Related topics