Best Bar Design
Prahran Hotel by Techne Architects
Jury comment
The striking concrete culvert facade of Prahran Hotel makes an unambiguous declaration to passers-by: this is a place to enjoy a sociable drink in a reimagined version of the corner pub. There is an unabashed celebration of Australian drinking culture in the visual allusion to stacked kegs, bottles or barrels, while the finesse of the execution in scale, spatial accommodation and construction evokes less expected references to Japanese Metabolist architecture or modernist mechanist metaphors. Like all good pubs, Prahran Hotel offers a variety of settings for different seasons, groupings and times of day, each reinforced by intelligent choices in materials, lighting and fitout: from the intimate caves of timber-lined booths, to the vantage point offered by a floating concrete tub overlooking an airy courtyard. This is no gentle insertion or secret imbibing hideaway, but a bold, purpose-built piece of architecture that elevates the simple act of sharing a drink with friends to street theatre.
Design statement
The challenge of designing and building the facade made this project unique. The design consists of seventeen oversized concrete pipes. This pipe facade is the defining feature of the pub and the facade experience is the same whether you are inside or outside the pub. Steel-framed windows face the street so passers-by can easily see into the venue and immediately engage with the pub. Taking this a step further, the facade isn't just a wall to be looked at. It contains booths and walkways that enable patrons to actually sit within it, to interact physically with the edifice itself.
Prahran Hotel
82 High Street
Windsor Vic 3181
prahranhotel.com
Products and materials
Walls and ceilings

Precast concrete walls by Cowan in Dulux 'Luck' finish. Proprietary timber wall to courtyard and bulkhead over bar area is 'Spotted Gum' hardwood timber from Timber Search. Soundchek ceiling acoustic plasterboard by Gyprock.
Windows and doors

Proprietary steel profile windows and doors by Windows on the World.
Flooring

Floor tile in 'Labrador,' 'Himalayan' and 'Kashmir' (internal and external) by Classic Ceramic, laid in random patterns. Hardwood timber floorboards to dancefloor in 'Spotted Gum' by Timber Search. Highmont carpet by Brintons Carpets in 'Midnight.'
Lighting

General lighting by Light Projects. Stal suspended concrete pendant over bar by Satelight. Bunker light in courtyard, booth and bathrooms by Dunlin. Rattan tube pendant in ground floor booths custom designed by Quantum Engineering. Festoon suspended LED light in courtyard by Edison Light Globes.
Furniture

Jack + Jil outdoor table by Tait Furniture. Hee stool by Corporate culture. Eiffel indoor stool by Schots Home Emporium. Proprietary spotted Gum hardwood timber table tops from Timber Search. Zone banquette upholstery to booths by Instyle in 'Time' and 'Range.'
Bathroom

Vantis Pin basin mixer by Hansa. Orbis basins and White Stone basins by Caroma. Laguna/66 wall tiles by Classic Ceramic in 'Light Green' and 'White.'
Heating

Isis ceiling fan by Big Ass Fans. Heatray outdoor electric heaters by Celmec.
Roofing

Lysaght Klip-Lok 406 metal deck roofing by Bluescope with Zincalume finish.
Landscaping

Chinese Elm tree in central courtyard.
Other

Custom recycled pipes to bar face by builder. Proprietary concrete pipes by Hume.
Credits
Design practice

Techné Architects
Melbourne, Vic, Australia
Project Team

Justin Northrop, Steve McKeag, Alex Lake, Melita Kei, Francois Claassens, Bianca Baldi
Consultants

Acoustic engineer Burton Acoustic Group
Builder Visual Builders
Building surveyor Retro Building Surveyors
ESD EnergyLab
Geotechnical engineer NSP Geotechnics
Land surveyor JCA Land Consultants
Landscaping Ayus Botanical
Lighting Light Project
Services engineer BRT Consulting
Structural engineer Parkhill Freeman

Site Details

Location 82 High Street, Windsor, Melbourne, Vic, Australia

Project Details

Status Built
Design, documentation 12 months
Construction 8 months
Category Hospitality, Interiors
Type Hotels / accommodation, Restaurants

Source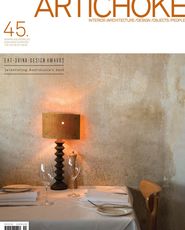 Issue
Artichoke, December 2013
Related topics