Jury comment
A limited budget. A site offering minimal inspiration. An impressive palette of architectural skills presenting a refreshing model of suburban domesticity. Robust and unadorned, this house emulates the integrity of early postwar housing. It proclaims scrupulous probity, economy, and climatic responsibility, and demonstrates deft and dimensionally efficient use of standard materials.
It is not about craftsmanship, but the honest expression of ubiquitous materials. Yet no hint of polemic taints the house, at once supremely liveable and generously embracing of its context. Deep sophistication is masked by apparent simplicity. The centrepiece is the grassed courtyard, around which a tight group of spaces is gathered. Perimeter circulation allows an experience enriched by the building's edge.
An efficient box of tricks creates a veiled structure externally, and an interior of non-permanent partitions, laid bare or closed at will. An entire wall of street openings offers the choice of privacy or engagement. This is a modest structure of enormous ambition; an assured work of architectural innovation; and, ultimately, a beautiful backdrop for the pleasures of family living.
See full image galleries of all the winning and shortlisted projects here.
Award for New House over 200m2 supported by Stormtech.
Credits
Architect

James Russell Architect
Brisbane, Qld, Australia
Project Team

James Russell, Andrew Schindler
Consultants

Builder Build Restore
Engineer Adrian Dine, Ad.Structure

Site Details
Project Details

Status Built
Category Residential
Type New houses

Source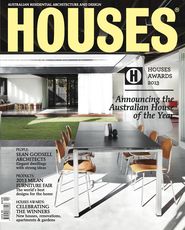 Award
Published online: 25 Jul 2013
Images: Toby Scott
Issue
Houses, August 2013
Related topics