Jury citation
Expertly negotiating an abandoned site, unloved heritage, complex security requirements and commercial demands, Brookfield Place not only provides a bold tower design, but also importantly contributes a civic realm to the city of Perth.
Permeability and legibility for the whole precinct has been achieved with the introduction of a street pattern for the site that stitches together the ground plane with neighbouring sites and streets. The clever integration and adaptive reuse of previously neglected heritage buildings brings vitality to the precinct, enlivening the local economy and building a place for people.
The pedestrian-focused public realm/ground plane continues into the dual lobby of the tower. The scale and handling of these lobby levels and formal passages grounds the form of the tower without over-powering the pedestrian precinct. The large, handsome tower dominates the city skyline, shifting expectations of form and colour for the city, with a scale and exoskeleton structure boldly expressive of the owner. Large floor plates with side core meet contemporary workplace requirements. Control of form and configuration to orientation, in combination with high-performance glazing, ensure appropriate sustainability performance.
The architects have skilfully leveraged the commercial program for significantly improved urban activity and heritage benefit, which in turn enhances the amenity for office workers. The extraordinary transformation of a long-derelict site creates an excellent public realm and successfully returns a major precinct to the city.
Credits
Architect

Hassell Perth
Perth, WA, Australia
Project Team

Robert Hardie, Mitchell Allen, Peter Lee, Andrew Low,James Fitzpatrick, Patrick Vereker, Joe Pirozzi, Michael Senior, David Benson, Ray Cambridge, Misha De Moyer, Ciara Drew, Peter Petro, Rod Pindar, Robert Woodward, Aysen Jenkins, Nick Walker, Anna Chauvel
Architect

Fitzpatrick + Partners
Sydney, NSW, Australia
Consultants

Acoustic consultant Herring Storer Acoustics
Builder Brookfield Multiplex
Building surveyor John Massey Group
Electrical consultant ETC Consultants
Facade engineer Aurecon Perth
Fire engineer Aurecon Perth
Hydraulic consultant Steve Paul & Partners
Interior consultant Hassell Perth
Landscape consultant Hassell Perth
Lift engineer Norman Disney Young
Mechanical consultant Geoff Hesford Engineering
Structural consultant Aurecon Perth
Town planning The Planning Group

Site Details

Location Perth, WA, Australia

Project Details

Status Built
Category Public / commercial
Type Tall buildings

Source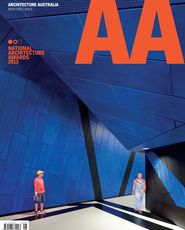 Issue
Architecture Australia, November 2013
Related topics