Jury citation
A tightly controlled and thoughtful project, the Mountain Retreat Medical Clinic skilfully weaves a response to heritage, urban condition and program into a formal and spatial delight. The sensitive yet robust formal gesture of the copper-clad, hipped-roofed box deftly negotiates a relationship to the adjoining two-storey historic building and residential neighbourhood. The scale and expression of the form complements the street yet identifies itself as an important service within the community. An opportunity has been taken to add to the public realm with the integration of seating into the entry ramp for the immediately adjacent bus stop.
The high-quality design of the internal environment, working with warm materials and crisp detailing, expertly incorporates natural light to provide a calm set of spaces. Consulting rooms have a well-considered connection with an enclosed garden, providing a spatial amenity not normally found in these sorts of medical consulting suites.
The design strategy for the clinic demonstrates that contemporary workplace theories can be brought to a small suburban practice and a day-to-day setting. The straightforward yet highly considered approach to materials, longevity, life cycle, user control and amenity is testament to the practicality and sensitivity of the architect.
Source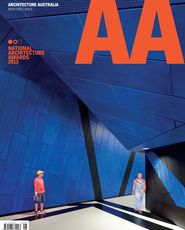 Issue
Architecture Australia, November 2013
Related topics