Jury citation
The interior of the Perth Arena is conceived as a tumble of extruded puzzle pieces loosely arranged in a doughnut around the tight nugget of the arena itself. This doughnut space creates a new interior world of circulation and support function for the arena. The architectural promenade is made from a sequence of unexpected and delightful spatial experiences, wrought from a simple palette of natural and blue-stained plywood and epoxy. The spaces are complex: they connect up, over and through. They soar to huge heights in complex geometries. They connect back to the city at significant spots through glazed gaps between puzzle pieces. The unfolding enfilade spaces are varied and dramatic, making the path to an event a performance in itself.
The arena itself is an uncompromisingly blue space. Cold and just so blue while empty, it is wildly enlivened by the colour and movement of the audience. Sporting fans' coloured clothing pops off the tonal background. The audience becomes another performance. The arena design seems to effortlessly incorporate the high-tech operable roof, state-of-the-art acoustics and flexibility of capacity, removing the possibility of an emptyish-venue buzzkill.
The arena has a sense of singularity of purpose and focus. It is intensely inwardly focused. By contrast, the surrounding circulation and function spaces are buoyant, variable and exuberant. At points, they connect meaningfully with the city around. At other moments, they are very much about upward gaze or complex internal layering. The extreme spatial variation in a restrained material palette, the connection to and separation from the city, the complexity and delight make this a truly magical way to transition from the life of the city to the fantasy of performance space.
Read the project review by Simon Anderson for Architecture Australia.
Credits
Architect

ARM Architecture Perth
Perth, WA, Australia
Project Team

Stephen Ashton, Dominic Snellgrove, Howard Raggatt, Stephen Davies, Peter Keleman, Andrew Lilleyman, Jeremy Stewart, Jonothan Cowle, Andrea Wilson, Jacqueline Cunningham, Steve Christie, Luke Davey, Beata Szulc, Jonathan Davis, Greg Stretch, Doug Dickson, Michael Edmonds, Ian Surtees, Deborah Binet
Architect

Cameron Chisholm Nicol
Perth, WA, Australia
Consultants

Acoustic consultant AECOM Perth
Arena consultants RTKL Associates
Builder BGC
Building services WSP Group
Building surveyor John Massey Group
Civil consultant Wood & Grieve Engineers Perth
Landscaping Urbis
Project manager Appian Group
Quantity surveyor Ralph Beattie Bosworth Pty Ltd
Structural Aurecon Perth
Wayfinding Vivid

Site Details

Location Perth, WA, Australia

Project Details

Status Built
Category Commercial, Interiors, Public / cultural
Type Sport

Source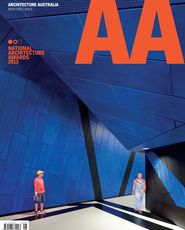 Issue
Architecture Australia, November 2013
Related topics