Jury citation
Australia's Parliament House was quickly identified by the jury as the clear winner of the National Enduring Architecture Award. Mitchell Giurgola and Thorp has demonstrated the power of architecture to respond to significant purpose with the best materials and craftsmanship of Australia, creating a significant place representative of who we are as a nation.
The design draws together the symbolism of the Canberra Plan and the systems of Australian governance with extraordinary spatial and material control. With exquisite craft, attention to detail and material selection, every design decision resonates with symbolism and meaning, creating a calm yet rich and layered set of spaces. Combined with thoughtful selection and integration of art, the building not only withstands the tests of time but also continues to live larger.
The fundamental strategy of building within the form of the hill ensures that Parliament House looks like it always has and always will belong to the site and Canberra. The sequencing of spaces, manipulation of form and integration with the Griffin vision demonstrate a mastery of architecture.
This award recognizes a unique moment in Australian architecture, where political will, design excellence and pronounced search for meaning in architecture, as well as developing confidence as a nation, resulted in an extraordinary building that will continue to inspire.
Source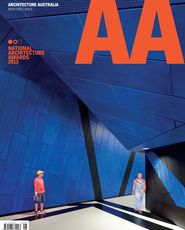 Issue
Architecture Australia, November 2013
Related topics