Jury citation
Darling Quarter comprehensively demonstrates how architecture, when integrated with urban design and landscape architecture, can dramatically change the way an urban place works. Drawn originally from a scenario of speculative commercial models, the project provides and exceeds the demands of the contemporary workplace and connects the city to Darling Harbour and people to place in a few crucial moves.
A restrained form presents a fine backdrop to urban space, while a clear expression and massaging of scale and bulk define an edge to the city and a frame for activity. A split or shift in the large campus block connects the field condition of Darling Harbour to the street network of the city despite the difficult expressway condition. Activated frontages with a good mix of uses, including an outstanding and delightful playground area, ensure that broad community needs are met throughout the day, contributing to a tangible liveliness of place. The urban realm of the project makes an excellent contribution to the social fabric of the city, demonstrating how increased density and mixed use can be provided for in dense living and working environments.
The offices offer a great example of contemporary thinking in workplace design – they are open, connected, dynamic and fluid. The spatial and organizational logics maximize interaction within large campus floor plates, with a layering of types of workplaces and an approach to scale that brings a positive urban quality to the interior. This project applies the latest theories of workplace, sustainability and urban design and shows how they can be brought together in a holistic fashion, in a way that is often discussed but seldom integrated and achieved in such a clear built form.
The project shows how developer, tenant, architect and specialists working together can create a highly customized, sophisticated and tailored solution with major social, community and sustainable benefits. All parties are to be applauded.
Read Marianna Preston's project review of Darling Quarter Playground for Landscape Architecture Australia.
Credits
Architect

fjmt
Australia
Project Team

Richard Francis-Jones (design director); Jeff Morehen (project director); Johnathan Redman (principal); Sean McPeake (senior associate); Adam Guernier, Peter Russell, Sahar Koohi, Martin Hallen, Stephen Pratt, Soenke Dethlefsen, David Haseler, Annis Lee, Karina Kerr, Simon Lee, Samuel Faigan, Gareth Morgan, Ian Brumby, Joey Cheng, Prudence Ho
Consultants

Builder Lend Lease Design
Civil engineer Robert Bird & Partners
Developer Lend Lease Design
ESD Arup Sydney
Electrical services Aurecon Sydney
Fire and hydraulic consultant Warren Smith & Partners
Fire engineering Defire
Interior designer E. G. O. Group, Davenport Campbell
Landscape architect ASPECT Studios
Lighting design Lend Lease, Ramus Illumination, Speirs + Major
Mechanical services Arup Sydney
Project manager Lend Lease Design
Quantity surveyor Lend Lease Design
Structural engineer Arup Sydney
Water feature consultant Waterforms International
Wayfinding Deuce Design

Site Details

Location Darling Harbour, Sydney, NSW, Australia

Project Details

Status Built
Category Public / commercial

Source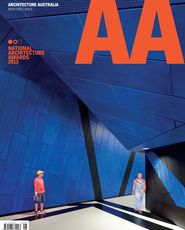 Issue
Architecture Australia, November 2013
Related topics