Jury citation
This project is a highly refined and delicate restoration and contemporary intervention underpinned by a careful, dedicated understanding of the original 1871 building, its evolution and its relationship with the Good Shepherd Sisters. Careful consideration has resulted in a heritage place that is highly integrated at the urban interface through a respectful, contemporary and finely detailed landscape treatment. This urban frontage serves as a gift to the precinct, drawing on and extending the developing sense of community in this precinct that has grown progressively with the success of Abbotsford Convent and Collingwood Children's Farm. At the same time, it gently draws attention to the church, and in doing so honours the heritage structure and its meaning.
The work involved meticulous research and sensitive, rigorous restoration, including the respectful treatment of elements from various periods, marking the layers of history of the Good Shepherd Order and its time in this place. New spaces and elements have been carefully overlaid, employing finely articulated and refined contemporary elements of steel and glass to improve access and functionality, and to serve the current needs of the church. The distinction between old and new is completely clear, and finely wrought in a way that celebrates both. A new interpretive centre includes display cases and devices that are fully integrated with the architectural interventions, again bringing precious artefacts and information together through the delicate balance of new and old structures. New spaces have been carved out beneath the old structure, allowing the crypt to serve as a meeting area, and providing further interpretive elements – openings into the foundations allow a reading of the chapel's construction.
Just as this combination of fine restoration and contemporary intervention celebrates the heritage structure, it also rejoices in the modern day and therefore the Good Shepherd Order's place in it, as both old and new elements are treated with great sensitivity, respect and exquisite craftsmanship. The result is a place of great beauty.
Credits
Architect

Robert Simeoni Architects
Carlton, Melbourne, Vic, Australia
Project Team

Mark Humphrey, Robert Simeoni, Ursula Chandler, Jenny Malacchini, Kon Katsieris
Consultants

Builder Longbow Constructions, Stephen Pelly, Longbow Constructions
Electrical consultant Phil Dorne, Fryda Dorne & Associates
Structural consultant Dale Simpson, Perrett Simpson

Site Details

Location Abbotsford, Melbourne, Vic, Australia

Project Details

Status Built
Category Interiors
Type Alts and adds, Culture / arts, Heritage

Source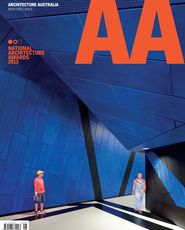 Issue
Architecture Australia, November 2013
Related topics