Jury citation
The Kinghorn Cancer Centre is an urban institutional building that combines the functions of cancer treatment and cancer research with the aim of sharing knowledge between clinic and lab.
A large complex in densely residential and retail Darlinghurst, the centre negotiates the transition from fine-grain retail to hospital. In sectional organization, it gives street level to a cafe, a generous entry and patient treatment rooms, with offices, laboratories and elevated gardens above. Oncology treatment rooms are pulled off the street facade with a garden and translucent screen. Bougainvillea is beginning to push its cheeky pink tendrils out into the street. Upper levels are treated with welded metal mesh screening that creates privacy, in deference to predominantly residential neighbours.
At the core of the design is a transparent atrium. Bridges and stairs traverse this space and rooms pop out into it. Circulation is used as a means of creating chance encounters between researchers and clinicians as part of the philosophy of the institution. The atrium demonstrates a strong use of timber and concrete and expert control of daylight in creating an atmosphere that is neither sterile, nor institutional. A monumental, dynamic vertical painting covers the entire rear wall of the space. The artwork counteracts the calm rectilinearity of the building with its active, splashed, human marks.
The Kinghorn Cancer Centre is both robust and refined. The centre combines the functions of research, development, testing and patient treatment in one urban facility. It unites the program through a bold central atrium space. This active, inviting, engaging central space embodies the design's ambition: to engender collaboration and interaction between clinicians, scientists and researchers.
Read the project review by Michael Keniger for Architecture Australia.
Credits
Architect

BVN Donovan Hill
Australia
Project Team

James Grose, Mark Greene, Ian Goodbury, Julian Ashton, Isabell Beck, Irina Belova, Oskar Booth, Rob Burton, Peter Clarke, Barry Dineen, Joe Fiumedinisi, Janene Fowlstone, Olivia Giangrasso, Rose Jimenez, Greg Knight, Judy Lee, Daniel Londono, Angie McKay, Rodrigo do Mello, Domino Risch, Stefan Strigl
Consultants

Acoustic consultant Wilkinson Murray
Contractor Richard Crookes Constructions
Facade and hydraulic engineer Arup Sydney
Fire consultant Arup Sydney
Landscape architect 360 Degrees Landscape Architects
Mechanical and electrical engineers Arup Sydney
Project manager Capital Insight
Quantity surveyor WT Partnership
Reflectivity and wind consultant Heggies Australia
Signage BVN Donovan Hill
Structural SCP Consulting
Town planning Urbis

Site Details

Location Sydney, NSW, Australia

Project Details

Status Built
Category Health, Interiors, Public / cultural
Type Clinics

Source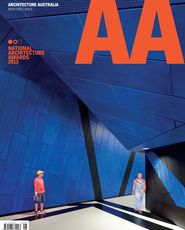 Issue
Architecture Australia, November 2013
Related topics