Jury citation
The Finding Country exhibition at the 13th Venice Architecture Biennale is the latest manifestation of a project pursued with great tenacity and rigour by Kevin O'Brien and his various collaborators over the past seven years. By exhibiting the work in Venice, O'Brien makes his inventive, exploratory rethink of Australian urban space available to international audiences, challenging the often clichéd international expectations of what Australian architecture is and should be.
But this significant work challenges us at home, as well as those abroad. O'Brien deliberately sets up a confrontation between "traditions of Aboriginal space (country) and European space (property)." He argues that "Aboriginal Country is excluded from the Australian City" and that the prevailing concerns of Australian architecture "continue to bring Aboriginal Country into decline." O'Brien contends that Australian architects continue to draw on apparently blank, white sheets of paper, but that "the Aboriginal position is that this paper is not empty, but is full of what can't be seen."
Finding Country imagines opportunity and recovery in this decline. It seeks to remake the ground on which Australian architects draw and build, to reintroduce the many countries and spaces of Aboriginal Australia, and to assert an "Aboriginal origin for Australian architecture."
The site for this exposition is the "common ground" of Brisbane, located on the Aboriginal Country of the Yuggera, Jagera, Turrbal, Ugarapul and Kurnpal peoples. An eight-by-three-metre drawing of this region is divided up, and contributions by almost fifty Australian architects and students aim to "find something special" and to stage an "architectural negotiation with decline." This inclusive, educative approach to a complex issue challenges us all to participate.
Finding Country insists on the significance of Aboriginal Countries in our collective future, rather than historicizing this knowledge or positioning it as an object of anthropological curiosity. The project is particularly significant for its activation of Indigenous knowledge in contemporary Australian urbanism, and in its challenge to non-Indigenous architects, here and elsewhere, to follow suit.
Robert Grace reviews Finding Country in Architecture Australia, November 2013.

Credits
Architect

Kevin O'Brien Architects
West End, Brisbane, Qld, Australia
Project Team

Kevin O'Brien, Francesco Calzolaio, Michael Markham, Gina Levenspiel, Susan Ellison, David Hanson, Claire Humphreys, Tina Tam, Barabara Ellison, David B. Stewart, Carroll Go-Sam, James du Plessis, Eugene Nemesi
Consultants

Collaborative consultants Venti di Cultura, Finding Country Collective
Venice exhibition host Spiazzi
Venice installation David Hanson, Kevin O'Brien
Venice organization host Venti di Cultura
Web and catalogue The Letter D

Site Details

Location Venice, Italy

Project Details

Status Built
Type Exhibitions

Source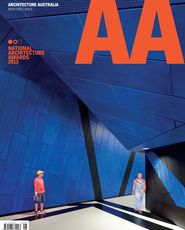 Issue
Architecture Australia, November 2013
Related topics