Jury citation
Australia House is an elegant and poignant building of physical and conceptual strength, which skilfully negotiates between the cultures of Australia and Japan, providing rich opportunities for engagement and exchange.
The building is part of the Echigo-Tsumari Art Triennale, a festival developed explicitly to help rejuvenate a region with a diminishing and ageing population. Australia House provides a space for residencies for – and exhibitions by – Australian artists and curators. Established in 2009, it occupied an abandoned traditional Japanese farmhouse until March 2011, when that building was destroyed by a powerful aftershock. The new Australia House by Andrew Burns is the result of an open competition run by the Australian Embassy Tokyo, Art Front Gallery and Tokamachi City, with a jury chaired by Tadao Ando.
The outcome is small, surprising and highly refined. Triangular in plan, with a steeply canted roof, the building is formally striking and creates intriguing spatial relationships between the exhibition spaces on the ground floor and the living spaces above. The crisp form and natural materials and the use of spaces common to both cultures – such as the verandah, or "engawa" in Japanese – make a warm, welcoming and comfortable space for all.
But this delicacy belies the building's toughness – it is designed to be able to withstand a major earthquake while covered in three metres of snow. This means that it also works as an emergency shelter for the local community. As a result, this building crosses cultures in multiple ways, resonating with multiple audiences. It is a poignant way to build international ties, both symbolic and highly functional.
Read the project review by Julian Worrall for Architecture Australia.
Credits
Architect

Andrew Burns Architect
Chippendale, Sydney, NSW, Australia
Project Team

Andrew Burns (design architect); Casey Bryant, Souhei Imamura, Sotaro Yamamoto
Architect

Atelier Imamu

Consultants

Architectural assistant Casey Bryant
Builder Iizuka Constructions, Onojima Constructions
Collaborating architect Souhei Imamura, Sotaro Yamamoto
Structural engineer Taro Yokoyama, Low Fat Structure

Site Details

Location Tokamachi, Japan

Project Details

Status Built
Category Public / cultural
Type Culture / arts

Source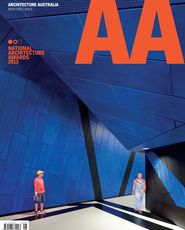 Issue
Architecture Australia, November 2013
Related topics