Jury citation
This project for the Brisbane Housing Company is an excellent response to the provision of affordable housing on a difficult inner-urban site adjacent to a railway line. Built for a remarkable client with a strong track record of investing in excellent architecture for subsidized tenants, it deploys a deep knowledge of planning and technical issues to gain the highest benefit from limited resources. The result is humane and delightful.
The clever site planning and spatial strategy – the seventy-eight apartments are organized as two building blocks connected by a central, open-air atrium – increases amenity, providing a cost-effective, comfortable living environment. Access to all apartments is via this atrium, which also works as a sequence of social spaces. Gardens, spaces to sit alone or in a group, barbecues, outdoor laundries and interconnecting voids all mean that the journey to each apartment is a delight. Built-in concrete furniture invites occupation and extends the functionality of these open-air communal spaces. Nobody is isolated and there is good informal community surveillance and security.
The apartments themselves are well proportioned and all units have useful, spacious balconies. On the lower two floors, offices for community organizations extend the project's impact and amenity for residents, while also contributing to the wider inner-urban community.
This well-executed housing project displays the skills of the architect in controlling program, brief and costs to provide lovely living spaces for those on constrained budgets.
Credits
Architect

Cox Rayner Architects
Australia
Project Team

Michael Rayner, Tim Morgan, Antony Scott Pegum, Matthew Cavanough, Solomon Romion, Ivan Lisinac, Felicity Yang, Perry Gustafsson, Matthew Alder
Consultants

Acoustic consultant Heggies Australia
Builder Walton Constructions
Building certifier Philip Chun & Associates
Electrical and mechanical consultant DMA Professional Engineers
Hydraulic consultant Wood & Grieve Engineers
Landscape consultant Urban Space Design
Structural and civil consultant Lambert and Rehbein Brisbane
Town planning Cardno HRP

Site Details

Location Brisbane, Qld, Australia

Project Details

Status Built
Category Residential
Type Apartments, Multi-residential

Source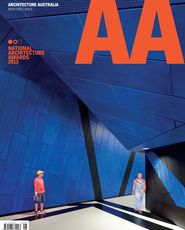 Issue
Architecture Australia, November 2013
Related topics