Jury citation
Residents of 29–35 Prince Street are both exposed to and protected from the proximate ocean and its vagaries, and therein lies the strength and the wit of this project. The building pushes the standard high-end residential development offering to a new level, showing that speculative development need not be solely an exercise in packing saleable area into an efficient shell. Instead, the building presents a highly considered formal, spatial and detailed response to its coastal site, while also sitting comfortably in its urban context. Despite its target market, the project retains a relaxed, beachy feel that does not change the character of the neighbourhood.
The apartments and shared spaces offer excellent amenity, while not letting residents forget that they live at the seaside. Planning is highly considered, with clearly demarcated public and private zones within the apartments. Long cuts between blocks bring light and air into the deep plans, and also house the lobbies. These are beautifully designed (unusually so in the context of this building type), with a touch of robust informality in its openness to the salty breeze. Naturally ventilated and lit, these lobbies offer a model of a suitable sustainable strategy in Sydney's climate.
The external materials of stone, concrete, timber and bronze will weather beautifully in the marine environment. Detailing and materiality are consistent, considered and, in places, playful. The hand of the designer is evident throughout – down to the arrangement of taps on the balconies. This brings delight and a rich sense of craft to the everyday – a quality not often found in speculative multi-residential developments.
Source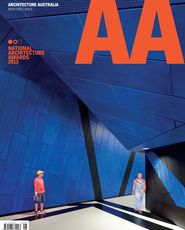 Issue
Architecture Australia, November 2013
Related topics