Jury citation
A tall, glittering Glomesh box and a low screened block frame an austere sloped public plaza, which covers an underground exhibition space. It simultaneously recalls Egyptian tombs, Jean Nouvel's Arab World Institute and the cold tech of movie spaceships. This is archaic architecture, despite its metallic sheen.
RMIT Design Hub is a difficult, uncompromising building. Where many workplace buildings are being designed around new methods of working, new ways of organizing, connecting and coming together, this building states that these activities only need a bare stage – an austere framing. Contemporary design thinking prioritizes process over form and styling and preconceptions. This project unasks many of these currently popular questions and poses others instead. For this reason it is challenging and interesting.
The design is focused on providing a backdrop for designed objects. It is detailed in such a way that it is both beautiful and recessive. When it is empty the eye is delighted by the light, the monochromatic subtlety, the sheer hard, icy control exercised over every element. When an object is placed in the space, the building becomes a gallery backdrop, allowing the object to take centre stage. The recessivity and prioritizing of formal clarity over function is applied at both the detail and the spatial level – the workspaces are well-proportioned, large rectangular lofts, a backdrop for whatever creative workspace arrangement might be preferred. The lecture theatres are hard boxes. The rooftop meeting pavilions have a delightfully Japanese disregard for weather protection. The circulation galleries are long and strangely proportioned, but come alive when filled with sculptural objects. Sometimes this approach to design has created moments of beauty and extraordinary drama – the descent into the ground is primeval. At other moments it resembles a gilded cage or a trap, a design dead end. It often has the melancholy of an eighteenth-century architectural engraving.
Perfection is impossible to achieve, yet this building hurls itself heroically at perfection and lands in an interesting place, right of field, provoking and uncomfortable, strangely out of date and yet a reminder of the power of architecture.
Read the project review by Juliana Engberg for Architecture Australia.
Credits
Architect

Sean Godsell Architects
Melbourne, Vic, Australia
Project Team

Sean Godsell, Hayley Franklin, Chris Godsell, James Hampton, Raf Nespola, Peter Seear
Architect

Peddle Thorp Architects (Vic)
Melbourne, Vic, Australia
Consultants

Acoustic consultant AECOM Melbourne
Builder (base building) Watpac
Building surveyor Philip Chun & Associates
Facade Permasteelisa Group
Fitout Brookfield Multiplex
Hydraulics CJ Arms & Associates
Mechanical, electrical and environmental consultant Aurecon, AECOM Melbourne
Project manager Aurecon
Quantity surveyor Davis Langdon
Services consultant AECOM Melbourne
Services engineer AECOM Melbourne
Structural consultant Felicetti

Site Details

Location Corner Victoria and Swanston Streets, Melbourne, Vic, Australia
Site type Urban

Project Details

Status Built
Completion date 2012
Category Education, Public / cultural
Type Universities / colleges

Client

Client name RMIT University
Website rmit.edu.au

Source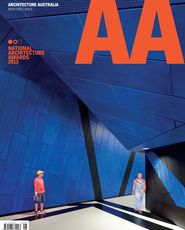 Issue
Architecture Australia, November 2013
Related topics