Jury citation
The Kinghorn Cancer Centre is a calm, dignified facility that houses clinicians, clinical researchers and biomedical scientists. It is located in inner-city Darlinghurst and the exterior responds to the urban context of mixed residential and large institutions with a facade of various perforations and transparency, negotiating a variety of requirements for natural light, privacy and views. Gardens and circulation spaces are located in the space between the facade and the interior, ensuring that the building is not a blank spot on the urban fabric and that it works well with the patchwork of open and walled gardens around the area.
Internally, the design uses an atrium as the prime circulation and collaborative space. Warm, sunny, calm and intimate, this is a successful space. The energetic splashes and markings of the Richard Long artwork on the rear wall provide a perfect counterpoint to the calm rectilinearity of the architecture. Natural light and views are provided throughout, and gardens and terraces are provided at various levels, giving a calm and healing ambience.
Details are refined and considered; the palette calm and peaceful. This project is an excellent, considered building that offers much to those who use it and to all who encounter it.
Read the project review by Michael Keniger in Architecture Australia.
Credits
Architect

BVN Donovan Hill
Australia
Project Team

James Grose, Mark Greene, Ian Goodbury, Julian Ashton, Isabell Beck, Irina Belova, Oskar Booth, Rob Burton, Peter Clarke, Barry Dineen, Joe Fiumedinisi, Janene Fowlstone, Olivia Giangrasso, Rose Jimenez, Greg Knight, Judy Lee, Daniel Londono, Angie McKay, Rodrigo do Mello, Domino Risch, Stefan Strigl
Consultants

Acoustic consultant Wilkinson Murray
Contractor Richard Crookes Constructions
Facade and hydraulic engineer Arup Sydney
Fire consultant Arup Sydney
Landscape architect 360 Degrees Landscape Architects
Mechanical and electrical engineers Arup Sydney
Project manager Capital Insight
Quantity surveyor WT Partnership
Reflectivity and wind consultant Heggies Australia
Signage BVN Donovan Hill
Structural SCP Consulting
Town planning Urbis

Site Details

Location Sydney, NSW, Australia

Project Details

Status Built
Category Health, Interiors, Public / cultural
Type Clinics

Source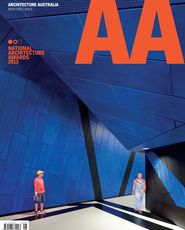 Issue
Architecture Australia, November 2013
Related topics