Jury citation
Law courts are difficult projects, with conflicting parties and imposed authority embedded in their nature. They must encourage respect and appropriate behaviour, have high security and manage complex circulation. Often the results reflect these difficulties.
The Queen Elizabeth II Courts of Law handles this difficult program sensitively and expertly, delivering a beautifully scaled sequence of spaces in a dignified urban object. The building communicates a calm, rational, reassuring atmosphere, managing to hit exactly the right note for the twenty-first century, abandoning the pomp and grandeur of past centuries. Respect is demanded, but also given to all parties involved in the often-traumatic processes. Transparency is maximized, and views to calming nature are provided to all circulation spaces. Art is distributed throughout the building, including major commissioned pieces that work extremely well as counterpoints to the architecture.
The glassy facade is screened and punctuated by outdoor decks with sky gardens, breaking down the scale of the building and allowing fresh air and breakout spaces to the inhabitants. At the same time the designers have configured the building on the site to deliver a major public space to the city, enlivened by artwork and provided with a public cafe. This space visually and physically extends an axis from the city to the nearby park. This is a very civilized and thoughtful public building.
Read the project review by Silvia Micheli and Antony Moulis for Architecture Australia.
Credits
Architect

Architectus Brisbane
Brisbane, Qld, Australia
Project Team

John Hockings, Lindsay Clare, Patrick Clifford, Mark Wilde, Ralph Bailey, Phil Jackson, John Grealy, Henry Hancock, Ashley Beckett, Juan Benavides, Kelly Burke, Mark Burrowes, Stephen Chandler, David Toussaint, Craig Earley, Katia Gard, Adrian Hanby, Mark Hogan, Queila Kleemann, Klara Kormendy, Stephen Long, Anthony McKibben, Fedor Medek, Anya Meng, Bill McIlwraith, Melinda Morrison, Jessica O'Shea, Robert Ousey, Rohan Patil, Kurt Piccardi, Ray Smith, Kirk Smith, Erik Sziraki, Keith Ward, Erin Wheatley, Stacey Carroll, Nadia Casati, Kalene Cassie, Sam Charles-Gin, Kirstie Galloway, Juliana Hannah, Glen Hartman, Matthew Herzig, Brett Linze, Andrew Jones, Georgia Kirkwood, Min Kyu Lim, Ashneel Maharaj, Cherissa McCaughey, Simon Moisey, Angus Munro, Michael Ray, Richard Stone, Janina Thieme, Anna van Hess, Nich Josephsen, Angela Morton, Christina Renger, Joel Sim
Landscape consultant

Guymer Bailey Landscape
Toowong, Brisbane, Qld, Australia
Consultants

Acoustic and facade consultant Aurecon Brisbane
Audiovisual consultant Aurecon Brisbane
Building certifier Philip Chun & Associates
Construction manager Lend Lease
Construction surveyor Lyons Engineering Surveyors
Digital illustrations Pogo Digital
Disability consultant Access All Ways
Documentation Ranbury Management Group
ESD Steensen Varming
Electrical and mechanical consultant Aurecon Brisbane
Electronic services Aurecon Brisbane
Engineer Aurecon Brisbane
Fire services Aurecon Brisbane
Furniture, fixtures and equipment RGC Consulting
Hydraulics Thomson Kane Hydraulic
Landscape consultant Edaw
Lighting Steensen Varming
Model maker Model Consultants International
Quantity surveyor Wilde and Woollard
Security consultant Aurecon Brisbane
Signage and wayfinding Dot Dash
Structural and civil consultant Aurecon Brisbane
Surveyor Bennett and Francis
Town planning Buckley Vann
Vertical transportation Aurecon Brisbane

Site Details

Location 415 George Street, Brisbane, Qld, Australia
Site type Urban

Project Details

Status Built
Category Public / cultural

Source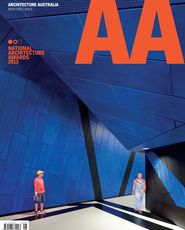 Issue
Architecture Australia, November 2013
Related topics