Jury citation
This house involves a clear vision, delivered with rigour and warmth, to provide a series of generous spaces for a family home. Responding to the particularities of site, including a heritage-listed bluestone cottage, the new elements are distinguished and set in dialogue with the hermetic solidity of the freestanding cottage. A series of plane walls running north–south and parallel to the side boundaries dictate circulation and the spatial arrangement, and cause a constant interaction with the exterior.
The result is a sequence of spaces that transition from "pure" front garden and "pure" cottage to an intermediate garden space and the new form. Visually and physically permeable between stacked and flanking walls, which flow out to the rear garden, it is a private counterpoint and balance to the exposed front garden.
The concept is uncompromising as an ordering spatial device, but the severity of the single-storey box contrasts with the diverse and delightful range of spaces and proportions created inside. Skylights are used to organize space and bring light and air into the interior, while also articulating the idea of parallel planes as walls. Walls open and close to reveal storage units and service spaces, allowing various configurations and creating a sense of dynamism and sensory engagement with the building. Playfulness and generosity are demonstrated by unexpected openings and perforations, and through rich though simple natural materials, textures and colours.
This house combines the rigorous execution of a clear and pure spatial proposition with the confidence and sensitivity to break the self-imposed "rules" of the concept – bringing together humanity, resonance and beauty.
Read the profile of Sean Godsell Architects by David Clarke for Houses.
Source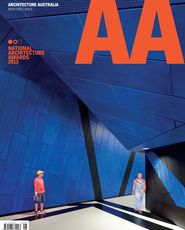 Issue
Architecture Australia, November 2013
Related topics