Jury citation
This project presents a dramatic challenge to its suburban context, while at the same time engaging directly with that context. Powerful, simple and somewhat confronting, the street facade is not a formal device but more a screen to a series of connected platforms, a courtyard and a rear garden. Rather than close itself off from the suburban street, this project has enlivened the level of engagement with neighbours as it opens up to expose its innermost spaces. An excellent example of an architect engaging with the potential of a suburban site, it entices contemplation of alternative models for speculative housing.
Taking full advantage of the warm climate, the project's major move is to create an internal courtyard that is bounded by unexpectedly permeable spaces. In this, it offers a new interpretation of the courtyard house, one in which the exterior skin of surrounding volumes is highly visually porous and openable, creating a layering of spaces with ambiguous boundaries and varying degrees of enclosure and privacy. Exterior walls range from fully openable tilt panel doors to moveable glazed doors and simple curtains. The form is roofed using "everyday" trusses, but, like most of the materials used (which are typical of contemporary suburban houses), these are subverted to create compelling forms and surprising spaces.
This house demonstrates the power of a compelling idea carried out with care. Using simple, inexpensive materials, innovative approaches to standard construction and sensitivity to context, the house delights in the state of in-between, the partial and the incomplete. This is both unsettling and stimulating, an inspiring project that required a visionary and adventurous client.
Read the profile of James Russell Architect by Margie Fraser for Houses.
Credits
Architect

James Russell Architect
Brisbane, Qld, Australia
Project Team

James Russell, Andrew Schindler
Consultants

Builder Build Restore
Engineer Adrian Dine, Ad.Structure

Site Details
Project Details

Status Built
Category Residential
Type New houses

Source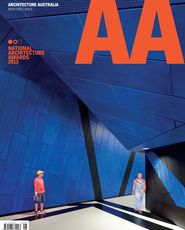 Issue
Architecture Australia, November 2013
Related topics