Jury citation
This house inhabits its coastal bush site with energy. It is active, responsive, charged architecture, almost bird-like, craning its neck to see over the edge, twisting its head to see the best views, scraping a nest among the trees. Nonetheless it nestles down into the hillside and is unimposing on the street, partly thanks to its green-grey zinc cladding, which is tough, soft and well suited to the canopy of eucalypts. Somehow this house is radically different while doing just what you'd expect, or want, to do here on this ridge above the Great Ocean Road in Victoria, looking out to Bass Strait.
The house's somewhat spiky and watchful exterior is not alienating, but intriguing. An earthy and descending path leads to a recessed front door, whose alcove hints at the warm, enveloping and remarkable interior. This interior is both complex and pure. All surfaces are lined with a singular material – timber – in an uncompromising commitment to spatial flow and development, an unfolding sequence that wraps around an external courtyard and peels off to capture and focus on views of the scrub and sea.
Highly resolved in all ways including fine detail, the house does not come across as overwrought or unsuitably citified. Instead it evokes the kind of amazing refinement wrought by evolution, an elegance that seems shaped by a natural, logical and sensitive response to the opportunities and constraints of a specific context, and shaped in a highly calibrated way to the forces around it.
This project reveals a masterful control of form and space, scale, material and detail. It is responsive to site and client, is beautifully functional, balances privacy and communality, and is richly sculptural as a series of spaces for occupation, rest and life. The achievement of such richness through a deceptively simple, balanced and cohesive whole, which is experimental without gratuitousness, is exceptional. It feels right and complete and particular – an authentic, resonant delight.
Credits
Architect

John Wardle Architects
Melbourne, Vic, Australia
Project Team

Chloe Lanser, John Wardle, Andrew Wong, Diego Bekinschtein, James Juricevich, Robert Kolak
Consultants

Builder Spence Construction
Building surveyor McKenzie Group
Furniture joiners McKay Joinery
Landscape consultant Elizabeth Peck Landscape Architect
Lighting consultant Light Project
Structural consultant Felicetti
Town planning Hansen Partnership

Site Details
Project Details

Status Built
Category Residential
Type New houses

Source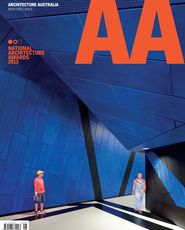 Issue
Architecture Australia, November 2013
Related topics