Jury citation
Perth Arena is a radical, abstract, graphic alien that has landed on the edge of the CBD. The arcane visual references to the shapes of the Eternity puzzle mask a building finely tuned to its environment and an excellent performance venue. The scale, colours and contrasts of the bold graphic language allow the low building to stand out against the mixed-scale urban fabric behind it, and give it a presence when seen from the freeway and the railway line. Up close, the graphic shapes split apart and are revealed to be three-dimensional. This game of two and three dimensions is made explicit in the anamorphic canopy elements, which create a human scale where the public spaces join the large building. The public space will join a link across the railway line, making a gateway to the CBD from the Northbridge district. A kinetic sculpture engages with passers-by, helping activate the space outside the building, which by its type has periods of quiet.
The project has a clear diagram of a doughnut of circulation spaces that feed into the main area. The circulation spaces are a triumph, an unfolding of cathedral-scaled spaces, of folding and fractured planes, and vertiginous crazed staircases, like an enormous Cabinet of Dr Caligari. Bars and lounges provide stopping points along the journey, located where glazed openings in the splits between puzzle pieces give event-goers significant city views and reveal the activities within to the city. This intense spatial drama is achieved with modest materials. The vibrant blue and warm natural wood tones are slashed with black graphic lines that unpeel from the plane into structural steel members.
The arena itself is an intense blue space that can be transformed in size to suit various crowds for a great variety of events. The device of enormous curtains to reduce or enlarge the space ensures the vibrancy of a full house every night, while the openable roof recalls the same device used in 1930s cinemas in Perth. Empty, the arena is a sombre space, but it functions perfectly as a recessive backdrop to the riot of colours and movement of the event and the audience.
The Eternity puzzle is a complex assemblage of simple pieces that required testing of millions of combinations. Once done, it seems obvious. The Perth Arena solves some very complicated conflicting requirements with deft, simple moves – these clear solutions similarly can only be found after obsessive testing and retesting of proposals. Feats it has pulled off include the fact that it is an intellectual building that manages to be popular; it is a type that is often urbanistically hostile, but here makes an urban contribution; it is robust in detail suited to sport and popular music, but gives a finely crafted spatial experience to the huge crowds. This is puzzle solving at the highest level.
Read the project review by Simon Anderson for Architecture Australia.
Credits
Architect

ARM Architecture Perth
Perth, WA, Australia
Project Team

Stephen Ashton, Dominic Snellgrove, Howard Raggatt, Stephen Davies, Peter Keleman, Andrew Lilleyman, Jeremy Stewart, Jonothan Cowle, Andrea Wilson, Jacqueline Cunningham, Steve Christie, Luke Davey, Beata Szulc, Jonathan Davis, Greg Stretch, Doug Dickson, Michael Edmonds, Ian Surtees, Deborah Binet
Architect

Cameron Chisholm Nicol
Perth, WA, Australia
Consultants

Acoustic consultant AECOM Perth
Arena consultants RTKL Associates
Builder BGC
Building services WSP Group
Building surveyor John Massey Group
Civil consultant Wood & Grieve Engineers Perth
Landscaping Urbis
Project manager Appian Group
Quantity surveyor Ralph Beattie Bosworth Pty Ltd
Structural Aurecon Perth
Wayfinding Vivid

Site Details

Location Perth, WA, Australia

Project Details

Status Built
Category Commercial, Interiors, Public / cultural
Type Sport

Source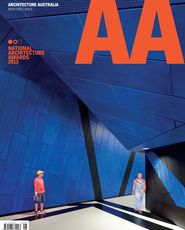 Issue
Architecture Australia, November 2013
Related topics