Jury citation
The forecourt upgrade of the Art Gallery of New South Wales is modest in scale but provides enormous benefit to the public realm. The scope of the project is limited to a new ramp, an upgrade in public space materiality and a consolidation of signage, lighting and security infrastructure. The impact of the project is an enhanced experience for the gallery's one million annual visitors, for passers-by in the surrounding parkland and for viewers from afar.
The key move is to disguise the ramp's length as a generous curve, minimizing its obstruction of the 1902 entry portico by Walter Liberty Vernon and reducing its scale to that of the other sculpture interventions in the forecourt. In this single, comprehensive stroke, the scheme serves function, increases accessibility, is sensitive to heritage, enhances the urban forecourt and creates a delightful architectural object.
One solid bronze-clad balustrade slices a gracious arc through the sandstone steps of the building. It is at once purely descriptive of its function and a richly sculptural and eloquent intervention. The sense of perfect inevitability of the outcome belies the careful resolution and refinement in detailing.
Not only do we now have equitable access to the building, here that equitable access is also something of a celebration. The wink to Richard Serra is a beautiful counterpoint to the portico's full-on embrace of the classical.
This truly elegant and refined piece of work demonstrates that the provision of access can enhance a historic building. It is a perfectly pitched example of a fine contemporary intervention, where old and new complement one another, making both better.
Credits
Architect

Johnson Pilton Walker
Sydney, NSW, Australia
Project Team

Graeme Dix, Richard Johnson, Chris Thorp
Consultants

Bronze fabricator Berczi Copper
Civil contractor Ozpave
Construction manager Phil Johnstone
Cost consultant Chris Bylett and Associate
Heritage consultant Michael Bogle
Project manager Jason de Bruin
Steel fabricator ACD Group
Structural and civil consultant Taylor Thomson Whitting
Traffic consultant Taylor Thomson Whitting

Site Details

Location Sydney, NSW, Australia

Project Details

Status Built
Category Public / commercial
Type Culture / arts, Public / civic, Refurbishment, Small projects

Source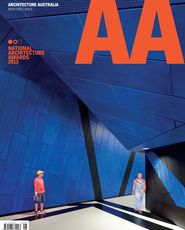 Issue
Architecture Australia, November 2013
Related topics