Jury citation
Nestled into the roof void of Frederick Romberg and Robin Boyd's McCaughey Court student accommodation building at the University of Melbourne, 7th Heaven provides compact and economical housing for mature-aged students. Accommodation units are cleverly shoehorned into the steeply hipped "Akubra" roof form of the original building, creating dramatic double-storey accommodation units. They feel as unexpectedly generous in section as they do constrained in plan.
The plans are as small as twelve square metres. The architects designed specific built-in furniture to maximize liveability of the small spaces and use the unexpected generosity of the volume. The compact spaces are cleverly and tightly arranged, demonstrating that with care, specificity and tonnes of storage, very small spaces can make delightful homes. It is a telling departure from the notion of open planning and flexibility in institutional housing. To make such small spaces function, furniture must be fixed and specific to volume.
The accommodation spaces celebrate the materiality of the Romberg and Boyd shell. Great leaning concrete surfaces soar overhead. Windows are high up in the space, so the scheme creates changes in floor plane, using the generosity of the section to enhance the spatial experience and connect these tiny rooms back to the city. With a distinct perched-atop-the-main-building sense, these rooms are like romantic garrets for the modern age.
Credits
Architect

f

Project Team

Emilio Fuscaldo, Imogen Pullar
Consultants

Building surveyor Group II Building Surveyors
Environmental consultant LID Consulting
Structural consultant David Novak and Associates

Site Details

Location Melbourne, Vic, Australia

Project Details

Status Built
Category Interiors
Type Adaptive re-use, Small projects

Source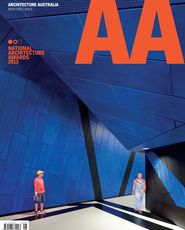 Issue
Architecture Australia, November 2013
Related topics