Jury citation
In the rambling, decaying Abbotsford Convent in Melbourne, this small intervention celebrates the complex's past, clarifies connections and indicates a direction for the future. At its simplest level, the breezeway creates a shortcut through large unused areas on the site. It connects parts of the convent that are currently leased and directs pedestrian traffic to childcare, retail, farm and cafe tenancies. This description belies the care and sensitivity of the intervention.
A cut point is chosen through disused buildings to both minimize disruption to the heritage fabric and forge a useful connection. The cut is articulated as a narrow timber-and-steel portal, announcing its newness in the heavy masonry fabric of the original buildings. This portal pushes through the building like a tube. The gauge of the timber cladding battens changes to conceal and reveal views into the rambling and decrepit interiors of the masonry buildings, eventually opening up to create a clear view at the centre. The attitude to heritage is clear: the new is clearly new, and all layers of history have been preserved in order to present a genuine story.
The Abbotsford Convent Breezeway is successful at the urban scale, creating a useful link in the complex. It also reveals part of the story of the convent – the workhouse laundries in all their decaying, graffitied and pigeon-poo glory. The project is a success in the links it forges and also in acting as a kind of marketing for these buildings. Now that their interesting interior volumes are on show, perhaps they will attract tenants and add another layer to the rich story of place.
Credits
Architect

Jackson Clements Burrows Architects
Melbourne, Vic, Australia
Project Team

Tim Jackson, Joachim Quino, Oliver Hutchison, Nigel Lewis
Consultants

Builder Alford Builders (Ross Alford)
Building surveyor Mark Landewee
Consultant Tony Lee
DDA Bernie Clifford
Project manager John Mummery
Structural consultant Kevin Collecutt

Site Details

Location Abbotsford, Melbourne, Vic, Australia

Project Details

Status Built
Category Interiors
Type Adaptive re-use, Conservation

Source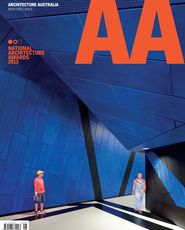 Issue
Architecture Australia, November 2013
Related topics