Jury citation
In the spirit of the small project award, the Djakanimba Pavilions' contribution to community is far in excess of their diminutive size and modest budget.
In remote Wugularr (Beswick) in the Northern Territory, an hour's drive from Katherine, the pavilions provide an adaptable program for the Ghunmarn Culture Centre. It is a vital piece of infrastructure for the community's arts festival, expanding the options and scope for developing content and housing collaborators.
When the jury visited, the pavilions were being used as temporary residential accommodation for a documentary filmmaker and her family, a hip-hop artist and some musicians from a nearby community, demonstrating the project's success in attracting artists to the community festival.
Through clever use of sliding walls and fold-up beds, the pavilions can become temporary art exhibition, learning or performance spaces. They are tough, unpretentious and responsive to climate. Off-the-shelf solutions are used elegantly, and the spaces are transformed on a regular basis as envisaged. Elevated on stilts, they sit above the flood plain and surrounding buildings, creating a delightful string of indoor and outdoor spaces hovering in the scrub. The scheme has a parsimonious elegance, a refinement derived from being exactly fit for purpose on minimal means.
Credits
Architect

Insideout Architects
Belgian Gardens, Townsville, Qld, Australia
Project Team

Tania Dennis, Tamaki Broome, Kate Scattini
Consultants

Artist/laser cut panels Brendan Hackett, Frankie Lane, Scott Hall, Augustina Kennedy
Builder Greeney, Fredbuild
Communications consultant The Institute of Backyard Studies (Mark Thomson)
Construction manager Fredbuild (Simon Brooks)
Cost consultant Stark Consulting & Associates (Ian Stark)
Developer Djilpin Arts (Fleur Parry and Tom E. Lewis)
Electrical and mechanical consultant CKS Electrical Mechanical (Justin Dowson)
Hydraulic consultant GHD (Lindsay Monteith)
Hydraulic services Barkly Plumbing (Brian O'Duffy)
Lighting consultant Bob Dennis
Project manager Probuild NT (Mick Betteridge)
Site inspection Skye Raabe
Steel shop drawings Accolade Steel Detailing (Josh & Tony Edwards)
Structural consultant Glynn Tucker Consulting Engineers (Andrew Maltby)
Training and enterprise Anna McLeod

Site Details
Project Details

Status Built
Category Residential
Type Small projects

Source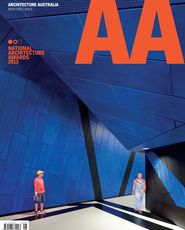 Issue
Architecture Australia, November 2013
Related topics