Jury citation
West Kimberley Regional Prison exploits its steel structure and coloured steel cladding in ways that are perfect for the Kimberley climate. The prison, within its secure perimeter, provides detached buildings that accommodate the needs of Indigenous prisoners.
The project makes excellent use of coloured steel sheeting. The colours used are perfectly in harmony with native bush colours, allowing the buildings to fit very comfortably with the landscaping. Lightweight cladding is an excellent choice for the hot, wet/dry climate. It avoids a build-up of heat in thermal mass, allowing the buildings to quickly cool down at night. The high strength of steel structures is perfect for large overhangs and big spans such as the sports hall.
The architectural language aims for shelter without claustrophobia, using open corners and tilted planes. These openings are easily created with steel framing and cladding.
Read the project review by Elizabeth Grant and Peter Hobbs for Architecture Australia.
Credits
Architect

TAG Architects
Perth, WA, Australia
Project Team

Jurg Hunziker, Michael Spight, Johnathan Alach, Melanie Burnett, Daniel Bubnich, Hayley Brigatti, Daniela Casadio, Alicia Hitchcock, Julie-Anne McGuinness, Cynthia Teng, Finn Pedersen, Adrian Iredale, Martyn Hook, Rebecca Angus, Shiva Amir-Ansari, Vincci Chow, Caroline di Costa, Jemma van Dongen, Cherie Kaptein, Khairani Khalifah, Kylene Tan
Architect

Iredale Pedersen Hook Architects
Australia
Consultants

Acoustic consultant Cottee Constructions
Acoustics AECOM Perth
Builder Cooper & Oxley Builders, Pindan
Code consultant John Massey Group
ESD Cottee Constructions, AECOM Perth
Electrical engineer Sinclair Knight Merz
Flora species selection specialist Tim Willing
Geotechnical engineer Douglas Partners
Hydraulic consultant Norman Disney Young
Landscape architects Clouston Associates
Local architect NBC Aboriginal Corporation, Tim Willing
Mechanical and fire services AECOM Perth
Project manager Coffey Projects
Quantity surveyor WT Partnership
Security consultant Sinclair Knight Merz
Security engineers Boffa Miskell - Wellington
Structural and civil engineer Pritchard Francis
Surveyor MAKJaP
Time planner DW Kolagow and Associates, JCA Project Planning (formerly James Clark & Associates)

Site Details

Site type Rural

Project Details

Status Built
Category Public / cultural

Source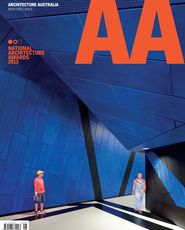 Issue
Architecture Australia, November 2013
Related topics