Jury citation
The application of contemporary design technologies has the significant potential for substantial reduction in the use of materials and structure in buildings. One One One Eagle Street successfully demonstrates how application of scripting in the design of towers has reduced material required for the structure by 20 percent while that structure also forms a key part of the contemporary expression of the building. A well-tuned facade operates to integrate screening and air intake with the structure, ensuring that the small moves made in reduction or integration are amplified by distribution across the scale of the tower.
With the addition of a gas-fired trigeneration system to fulfil chilled water requirements, the project embodies a strong model for the contemporary commercial tower.
Read the project review by Antony Moulis for Architecture Australia.
Credits
Architect

Cox Rayner Architects
Australia
Project Team

Jayson Blight, Michael Rayner, Philip Cox, Michelle Fitzgerald, Spyros Barberis, Shane Horswill, Sophie Benn, Kim Huat Tan, Jee Heng, Steve Hunter, Vesna Lazarevic, Tara Ram, Samantha Ritch, Zile Zolte
Consultants

Builder Leighton Contractors
ESD WSP Lincolne Scott
Landscape consultant Gamble McKinnon Green Brisbane
Project manager Burns Bridge Sweett
Services engineer WSP Lincolne Scott
Structural and civil engineer Arup
Town planning Urbis
Traffic consultant TTM Consulting

Site Details

Location 111 Eagle Street, Brisbane, Qld, Australia
Site type Urban

Project Details

Status Built
Category Commercial
Type Workplace

Source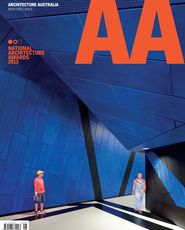 Issue
Architecture Australia, November 2013
Related topics