Jury citation
The precinct developed at 2 & 4 National Circuit presents a strong urban initiative within the context of a commercial development. It provides an alternative to the Canberra norm of the big block on the grand boulevard by developing a highly permeable "campus" that encourages the creation of a pedestrian community. This is consistent with moves by the ACT and Commonwealth governments to slow traffic and foster pedestrian activity.
The development also supports a "joined up" government approach by facilitating connections between government departments (as tenants in this development and in neighbouring buildings) and the individuals who work in them.
The project is effective at a number of scales. The development connects physically and visually to adjacent sites. The mix of materials and scales between the heritage building and the two new office buildings creates connections across the principal pedestrian plaza, which is fronted by activity-generating functions. Beautiful landscaping encourages the use of the finely scaled outdoor spaces. Site permeability extends into the richly finished foyers of the new office buildings, which welcome the public and form part of the cross-site pathways.
The project is also notable for its integration of underground car parking, which in turn means that the ground plane is preserved for pedestrians. This might seem obvious, but it is a real issue in Canberra, with its heavy dependence on vehicles and fondness for A-grade parking.
For a commercial development to show such urban generosity – in both its large-scale urban moves and the fine-grain landscape design – is valuable and highly commendable.
Source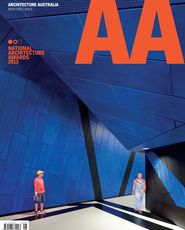 Issue
Architecture Australia, November 2013
Related topics