Jury citation
Brookfield Place makes a major contribution to Perth's urban environment. It re-establishes urban connectivity across a large, formerly neglected CBD block, which had been unused for almost thirty years and had thus become a barrier in the city. The project also retrieves and revitalizes some of the few remaining heritage buildings in St Georges Terrace – Perth's dress circle street. And all is achieved within the confines of a large commercial development.
With the new large tower set back from the street, foregoing a major street address, the heritage buildings are able to stand free. Yet they are also fully integrated into the new life and activity of the place.
A layered and carefully scaled series of thoroughfares and lanes encourages the public to move through the site to connect to the bus station and convention centre beyond. The result is a newly porous precinct that can be comfortably inhabited in many different ways. Finer grain spaces encourage lingering, while skilful level changes enable the inhabitation of the lower level of the heritage buildings, and create sheltered courtyards that complement the spaces within.
Brookfield Place has enlivened Perth by retrieving an abandoned site in the middle of the city and turning it into a place that people want to spend time in.
Credits
Architect

Hassell Perth
Perth, WA, Australia
Project Team

Robert Hardie, Mitchell Allen, Peter Lee, Andrew Low,James Fitzpatrick, Patrick Vereker, Joe Pirozzi, Michael Senior, David Benson, Ray Cambridge, Misha De Moyer, Ciara Drew, Peter Petro, Rod Pindar, Robert Woodward, Aysen Jenkins, Nick Walker, Anna Chauvel
Architect

Fitzpatrick + Partners
Sydney, NSW, Australia
Consultants

Acoustic consultant Herring Storer Acoustics
Builder Brookfield Multiplex
Building surveyor John Massey Group
Electrical consultant ETC Consultants
Facade engineer Aurecon Perth
Fire engineer Aurecon Perth
Hydraulic consultant Steve Paul & Partners
Interior consultant Hassell Perth
Landscape consultant Hassell Perth
Lift engineer Norman Disney Young
Mechanical consultant Geoff Hesford Engineering
Structural consultant Aurecon Perth
Town planning The Planning Group

Site Details

Location Perth, WA, Australia

Project Details

Status Built
Category Public / commercial
Type Tall buildings

Source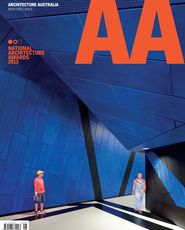 Issue
Architecture Australia, November 2013
Related topics