Jury citation
This is urban design of the quiet, understated variety – urban design that gets out of the way and lets the business of the city take the foreground. The result is a well-executed, restrained public domain that provides an appropriate setting for activity in one of Sydney's busiest public spaces.
It is a subtle project, which results in huge improvement. Yet the deceptively simple resolution and expression belies a complex set of parameters; this is a difficult site with many different buildings of different ages and a multitude of stakeholders. Much of the project's energy and budget went into undoing things to create a truly pedestrian space, such as getting rid of banal paving and creating a mute backdrop to the cacophony of branding and "design" that is contemporary retail.
The space is organized via two elegant lines running the length of the mall – one in the "floor," solving drainage and reminding us of the Tank Stream that still flows below; the other above, providing lighting.
Details and materials are of a high quality and are considered, lending a sense of permanence to an ever-changing retail environment and demonstrating a respect for public life, the city and its citizens. This is a quiet, polite, generous and slow scheme in a fast-paced place, where identity was previously only created through relentless advertising.
Credits
Architect

Tony Caro Architecture
Milsons Point, Sydney, NSW, Australia
Project Team

Alexander Koll, Tony Caro, Blair Young, Jason Fraser, Louise Chapman
Consultants

Access consultant Access Australia
Catenary installation Pacific Rigging
Civil consultant TLB Engineering
Civil contractor QMC Group
Construction manager Westfield Design and Construction
Electrical consultant Haron Robson
Electrical contractor FIP Electrical
Fabricator AMC+F – Jeff Clarke (furniture), 3S Lighting (catenary lights), Ronstan (catenary cable structure)
Hydraulic consultant Warren Smith & Partners
Landscape consultant Spackman Mossop Michaels
Public artist McGregor Westlake Architecture
Stormwater TLB Engineering
Structural consultant Enstruct Group, TLB Engineering
Traffic engineers Transport & Traffic Planning Associates

Site Details

Location Sydney, NSW, Australia

Project Details

Status Built
Category Landscape / urban
Type Outdoor / gardens, Public / civic

Source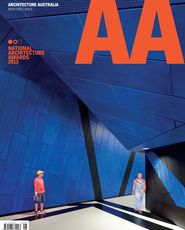 Issue
Architecture Australia, November 2013
Related topics