2013 South Australian Landscape Architecture Awards
Waterfront regeneration and urban greening projects were foremost among the fourteen projects recognized at the 2013 South Australian Landscape Architecture Awards. The awards were announced by the South Australian chapter of the Australian Institute of Landscape Architects on Friday, 6 September at the Art Gallery of South Australia in Adelaide. On the jury were: Dr Catherin Bull, chair (University of Melbourne / QUT); Ben Hewett (SA Government Architect); David Chick (Adelaide City Council); Sarah Young (City of Salisbury); Dr Jo Russell-Clarke (University of Adelaide); and Shaun Walsh (Brisbane City Council).
2013 South Australian Landscape Architecture Awards
Medal for Landscape Architecture
North Terrace Stages 2 and 3 – Taylor Cullity Lethlean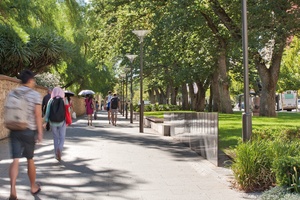 Jury citation: The 2013 Medal for Landscape Architecture in South Australia recognizes the significant value that the profession can bring to the long and complex process of urban transformation, especially where clarity of purpose and commitment are required. Irrespective of their inherent value and potential to contribute at a city-wide scale, long-established environments are burdened with an inertia that is challenging to change. In North Terrace however, Adelaide has, over the nearly fifteen years since the North Terrace Master Plan (authored by TCL), achieved a truly positive transformation. Despite the inevitable diversions resulting from individual interests, the next new idea, political cycles and administrative restructuring, North Terrace has been decisively re-established as a coherent place of civic pride – a fitting and dignified setting for the state's major institutions, a robust and delightful plaza for the use and enjoyment of both citizens and visitors and, just as importantly, a symbol of the city's capacity to transform itself. Congratulations to all those who have contributed to this project over that period, especially the landscape architects, Taylor Cullity Lethlean. Keep up the great work and realize the total transformation.
Design in Landscape Architecture – Award for Excellence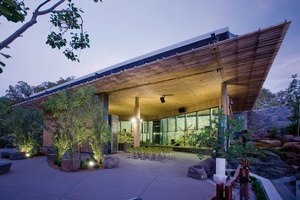 Adelaide Zoo People Project – Hassell
Jury citation: This exuberant and beautifully executed design creates a high level of anticipation for visitors, celebrating the rare and precious pandas it houses and elevating the experience for all. The complex challenges of accommodating panda habitat and care with visitor experience and education in an established context have been successfully overcome, creating a unique place with clear identity. This project ensures that the landscape experience at Adelaide Zoo is now world-class and a fitting addition to Adelaide's suite of cultural attractions.
Awards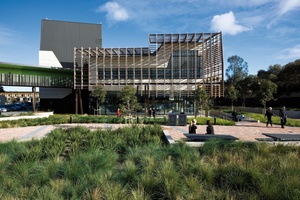 M2 and the Plasso – Swanbury Penglase
Jury citation: This award recognizes the success of the designer in achieving design quality in substantially scaled development on the urban fringe. This design creates a positive sense of place and seamlessly integrates building and landscape. The works are faultlessly detailed and use quality materials, setting a new standard for landscapes on urban fringe sites.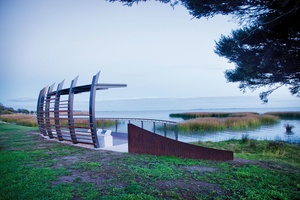 Meningie Lakefront Habitat Restoration Project – Aspect Studios
Jury citation: With this award, the jury recognizes that while quality design should be valued where it occurs across Australia, it is too rarely found beyond urban centres where the thought and skill that informs infrastructure delivery is often perfunctory. This project has recognised the importance and natural qualities of its site and has realized an exquisite outcome through careful siting of well-conceived and crafted interventions. Trails and platforms are carefully inserted in this precious landscape, focusing and elevating its experience and protecting its inherent values.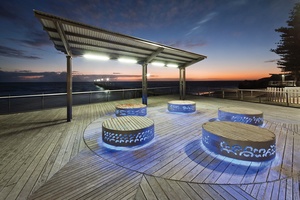 Port Noarlunga and Witton Centre – Taylor Cullity Lethlean
Jury citation:With this project, the seaside precinct of Port Noarlunga, including the Witton centre, the Surf Club, the car-park and pedestrian facilities have been re-invigorated and reconnected to the town. The project harnesses and represents the much-loved but often lost character of the beach, the river, the port and Kaurna heritage to create a set of spaces and places that have transformed the precinct, using robust materials and sustainability principles throughout.
Urban Design in Landscape Architecture – Award for Excellence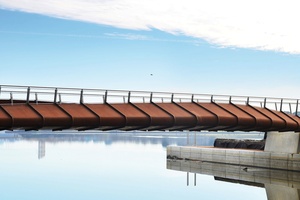 Kingston Foreshore Masterplan and Bridge – Oxigen
Jury citation: In this award the jury recognizes excellence in the delivery of urban design at all its levels and in all its modes – from an inspirational masterplan and development guide that lays out flexible yet clearly defined performance requirements for all buildings and open spaces through to the design and delivery of a poetic piece of infrastructure such as the bridge – which references not only the history of the site but the rowing skulls that traverse the lake today. The client and the landscape architectural team that led these projects are congratulated for identifying and realizing a transformational vision of the national capital. By resisting the protective suburban and pastoral typologies that have all too often been the default position and promoting the industrial heritage of the site, they have created a precinct that celebrates Canberra's variety and maturity as a city.
Awards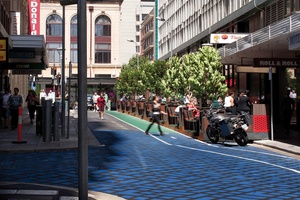 Bank Street – Taylor Cullity Lethlean
Jury citation: The jury commends the landscape architects, Taylor Cullity Lethlean, for facilitating a collaborative dialogue amongst the various authorities and professionals involved, resolving the contradictions inherent in existing policies and standards and reaching this outcome. It also applauds the aspirations of this pioneering project, encouraging those responsible to complete the process, a process which helps solve a problem confronted by all Australian cities – how to build confidence amongst diverse stakeholders about the workability of alternatives before major capital spending on permanent solutions.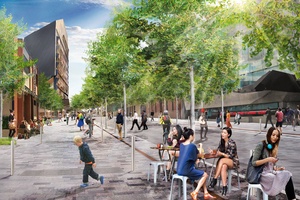 Hindley Street Activation – Hassell
Jury citation: This exemplary project uses urban design processes to break new ground, creating a new understanding, shared amongst stakeholders, of the potential of one of Adelaide's most important, but often most contested places. Building on a concept identified in the UniSA master plan, the landscape architects choreographed interactions between key parties, demonstrating how they can work together to transform an undistinguished area into a cohesive precinct, in this case an activated and pedestrian-prioritized precinct based on Hindley St.
Planning in Landscape Architecture – Award for Excellence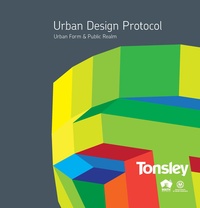 Tonsley Urban Design Protocol – Oxigen
Jury citation: Embedded in and building on the national, state and local policy context and building on a previous masterplan, this protocol establishes a clear way forward for all management and project teams to deliver quality urban outcomes in a governance environment that is still emerging. Targeted, direct and creative in its planning approach, this protocol extends existing practice and provides a promising beginning for the entire development process.
Award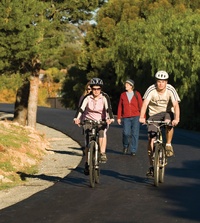 City of Marion Walking and Cycling Strategy – Oxigen
Jury citation: The Jury congratulates the City of Marion for this initiative which recognizes the potential contribution of pedestrian and bicycle movement to the city's development. Delivery will make it both liveable and desirable. In an environment where the private vehicle dominates, well-reasoned and clearly presented work such as this can change minds as well as places. Thorough, comprehensive and well-grounded in local issues, which are bench-marked against relevant national and international precedents, the strategy builds convincing evidence-based case for implementation.
Land Management in Landscape Architecture – Award for Excellence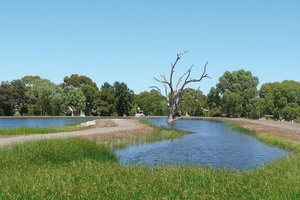 "Waterproofing the South" – City of Onkaparinga and Outerspace Landscape Architects
Jury citation: The jury commends the City of Onkaparinga for embarking on a remarkable and comprehensive project. The approach is not just multi-disciplinary but trans-disciplinary, delivering water efficiency, conservation benefits and recreational amenity and shows what can be achieved when experts work with each other and the community. It is of note that the project manager is a landscape architect and that the landscape architectural consultants took a leading role in delivering the community consultation process and the project outcomes. This project has created value at many scales, many levels and in many dimensions for this outer urban locality.
Research and Communication in Landscape Architecture – Award for Excellence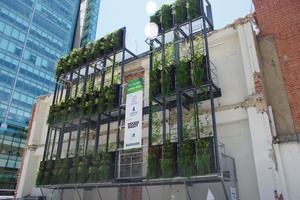 "Living Architecture: Where science meets design" – Fifth Creek Studio
Jury citation: In an intellectual environment characterised nationally by hyperbole and misinformation, this focused and, systematic research project is a welcome relief, building on preceding research to establish South Australia as a leader in the field. The rigor of the overall research program provides a locally tested evidence base for urban greening projects and communicates the findings to national and international audiences. We look forward to more projects that research how global challenges can be met by real knowledge of their interface with local environments.
Award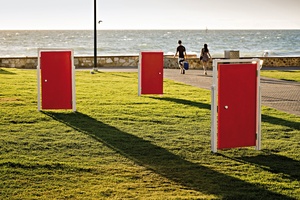 Random Arts Project – Wax Design and Spud
Jury citation: This project demonstrates how big impacts can be achieved with minimal budget. Using their disciplinary-specific skills in curation, public space development and community engagement, the landscape architects led a process of inserting small artworks throughout the centre that created contemporary public conversations about the meaning and relevance of public art to everyday life in the suburbs. Ephemeral, witty, delightful and contextual – the echoes that continue in local conversations and in the fabric of the place are testament to the success of this intervention.
Residential Design in Landscape Architecture – Award for Excellence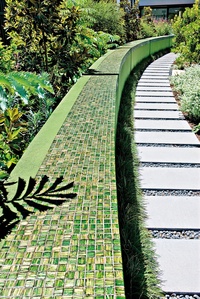 North Adelaide and Adelaide Villa Gardens – Taylor Cullity Lethlean
Jury citation: Elegant and contemporary, these gardens set new benchmarks in residential design in landscape architecture, demonstrating how the historic fabric in the inner city can be transformed and become useful for a new generation of families – adults and children alike. Bespoke, refined, idiosyncratic and beautiful, they aspire in their conception, to equal the artworks they house and the clients they serve.
President's Award
Kevin Taylor (Taylor Cullity Lethlean)
Future Leaders Awards
Aylwen Dennis (Aspect Studios)
Alexander Game (Oxigen)
Matt Baida (Wax Design)
People's Choice Award
North Terrace Stage 2 and 3 – Taylor Cullity Lethlean
People's Choice Award (Design)
Meningie Lakefront Habitat Restoration Project – Aspect Studios