Project statement
This project aims to restructure coral ecosystems by creating the ideal climatic conditions for coral growth. It focuses solely on the issue of excess nitrogen produced as a result of agricultural production, which has been linked to outbursts of crown-of-thorns starfish and a reduced resilience to coral bleaching. This project doesn't aim to intervene in existing reef habitats but instead creates a refined site condition that facilitates coral growth and ensures its longevity.
The project proposes a strategy that uses the additional sedimentation caused by coral bleaching to actively encourage the re-creation of these ecologies. The system increases coral sediment levels within the site, and diverts and filters excess nitrogen. Design techniques will define a site condition that is highly sensitive to its positioning in relation to environmental dynamics and stresses that contribute to the preservation or destruction of reef ecology.
Additionally, this project proposes a transforming underwater structure influenced by underwater currents – colder water from deeper depths is directed up into the structure to lower water temperatures and reduce the likelihood of coral bleaching. This structure also flushes out the system to cleanse and minimize the possibility of nitrogen build-up. The final intervention takes place on the adjacent agricultural land, filtering nitrogen out of water from the mainland before it enters the river systems.
Source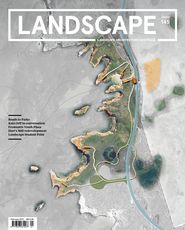 Issue
Landscape Architecture Australia, February 2015