Every year at Milan, there are over 1,400 exhibitors. If each had an average of thirty products, that amounts to over 42,000 number of chairs, lights, sofas, desks and other pieces of furniture, lighting and accessories. So, for a long time, the challenge has been, how do you create something special – something innovative, unique, and perhaps even visionary?
While there is much that is innovative at the fair itself, some of the more experimental work happens in other design districts. Ventura Lambrate is a wide-ranging series of exhibitions located in Milan's Lambrate precinct. It began in 2009 when Dutch curators Margriet Vollenberg and Margo Konings teamed up with architect and entrepreneur Mariano Pichler to provide a new space for design talent during Milan Design Week.
Growing each year in size and quality, this year Ventura Lambrate showed a lot of the best emerging and unknown talent, both Dutch and international. The strength of the work is due to the exhibition's careful curation by Vollenberg and Konings, with strict judging criteria applied to each project.
At Ventura Lambrate, Australian and New Zealand design was on show as part of The Other Hemisphere. For this exhibition, curator Sarah King of Supercyclers collaborated with Vollenberg and Konings to select products from 12 design practices following a call for entries.
The resulting pieces show work by a number of lesser known designers, as well as new collaborations, with collective work being a key theme of the exhibition. Sydney design collective The Fortynine Studio showed one piece by each of the five studio members, all inspired by one of the most quintessential elements of Australian life – bushfire. Ben Elbourne's Macrocarpa table of timber, ceramic and metal, is made in such a way that after being in a fire, the piece would be changed, but still functional and beautiful, with its timber burnt away, and its ceramic and copper left intact, although burnished by fire.
Also at The Other Hemisphere, Gregory Bonasera and Anthony Raymond from Melbourne's Porcelain Bear work exclusively with porcelain, using high-tech processes to create a hardwearing, smooth light series called I-O-N. And Alice Springs-based designer, Elliat Rich's work is suffused with meaning and beauty – her Decennia chair starts as a plain chair painted white, but, as it is used, layers of paint wear away to uncover a rainbow of colour in patterns that are unique for each end user.
Young Dutch designer Lex Pott worked with sandblasting techniques on timber to create screens, furniture, combs and matches cut from a single tree to create a one-off series. (Watch a video of him sandblasting.)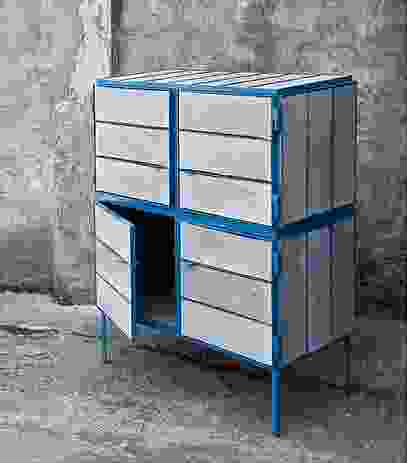 Another young Dutch designer Mieke Meijer extended her Newspaperwood product created at Design Academy Eindhoven in 2003, developed in collaboration with Vij5, and shown first at Ventura Lambrate in 2011. This year, the product is created from raw newspaper into a functional material like wood, with the added element of coming from specific titles to create coloured versions of the material. So the Financial Times makes orange, La Gazetta dello Sport makes pink, Italia Oggi makes yellow and Asharq al Awsat makes green.
Some projects featured relational or interactive design: sitting on one part of Shift bench by Luisa Gierhardt and Tina Strack causes another part to raise or lower making waiting in public spaces more interesting and fun. There was a kissing booth too – Thermobooth by taliaYstudio took a snap when users hug, kiss or touch hands. Another tactile exhibit was Treasure Island by Noelle Mulder, a table with an unusual surface. The majority of the surface is a field of sticks, packed together vertically so their flat tops make a moveable surface, while a round light towards one corner provides the "island". Using your hands or objects to create a landscape for the table surface, a lever underneath then allows the surface to be smoothed over.
These are just some of the 170 exhibitors at Ventura Lambrate this year and provide a clue as to the quality and innovation of the work. And, while 170 can't match the sheer size of the fair's 1,400 exhibitors, if you want to see the future of design, and meet the stars of the fair in ten years' time, Ventura Lambrate is probably your best bet.
Related topics