Jury citation
The massive twin steel frames that supported the gantry cranes of the former container shed define this project. Three hundred metres long, set on the vast concrete wharf apron, they are a powerful reminder of Sydney's working port and its heroic engineering structures. The new cruise facility sits between the gantry frames. Elegant steel trusses span between the old beams to suspend a series of curved tubular steel ribs below. The ribs in turn support the sinuous, wave-like form of the Aramax-clad roof draped beneath. New elements work seamlessly with the old, each clearly expressed and articulated.
Ancillary elements including awnings and passenger embarkation bridges complement the primary structure. They are robust but carefully detailed, adding a fine grain to the sturdy core ideas.
The interior is equally dramatic. The suspended roof sails gracefully in a clear span along the length of the terminal building. Full-height glass walls line three sides, with the view south over the harbour framed by the steel gantry border. A linear service and amenities block on the north encloses the fourth side, facing the dramatic cut sandstone cliff that separates the site from suburban Balmain.
The original steel structure has been left weathered with the scars of age, with hints of rust and patchy paintwork. It contrasts with the clean finish of the new steelwork and the glow of the Aramax. Light and shadow play on the whole structure to rich effect.
This is an example of steel at its best: bold engineering beautifully integrated with refined architecture. The project is exhilarating, confident and joyful, a great new asset to Sydney's shoreline.
Credits
Architect

Johnson Pilton Walker
Sydney, NSW, Australia
Project Team

Paul van Ratingen, Graeme Dix (project directors); Brendan Murray (project architect); Mathew Howard, Gareth Jenkins, Zoe Jenkins, Supinder Matharu, Natalie Minasian,, James Polyhron, Daniel Upton; Andrew Christie, Adam Robilliard, David Baker
Consultants

BCA consultant BCA Logic
Builder A W Edwards
Civil and structural consultant Taylor Thomson Whitting
Fire engineer Engineered Fire & Safety Solutions
Services & environmental consultant Hyder Consulting

Site Details

Location Sydney, NSW, Australia
Category Commercial, Public / commercial

Project Details

Status Built

Source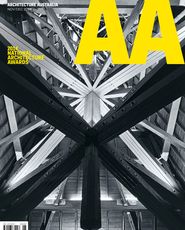 Issue
Architecture Australia, November 2014
Related topics