Jury citation
Bread in Common is a hip new restaurant located in an old automotive warehouse down a side street in Fremantle. Once notoriously famous for the port, the sailors and the pubs, Freo has seen its rich street life decline in recent decades, and now suffers from the 1980s insertion of a conservative university into the bulk of the city's heritage buildings. With that, most independent retail and commercial endeavour has faded. The new bakery and restaurant – hence the name, Bread in Common – has creatively animated two adjacent historic, but somewhat mundane, buildings to deliver a work that buzzes with energy and actively engages its urban frontage. It gives renewed energy to its immediate precinct, an injection of life that Fremantle has sorely needed.
The architects have brought the old building fabric to life, both in the gritty street facade and in the rich and theatrical interior. The kitchen, the centre of the action, is out front – open and on view – while the massive baker's oven is down the back with all the gear needed for commercial bread making. Diners sit in between, within the vast double-storey space surrounded by relics of its industrial past.
Solid rammed earth walls define the amenities area, with male and female toilets looking into small landscaped light courts – a beautiful, almost Zen touch. Above, a secluded mezzanine looks out over the main dining area and peeps through a looking hole to the kitchen below.
Bread in Common is an inspired piece of architecture and a runaway commercial success. It demands attention and has acted as a catalyst for many other start-ups around Fremantle's history-rich Victorian streets.
Credits
Architect

Spaceagency Architects
Fremantle, WA, Australia
Consultants

Acoustic consultant Norman Disney Young
Builder Texo WA
Commercial kitchen Hisco
Fitout & cabinetwork Professional Innovators
Furniture designer Paul Morris-Join
Hydraulic, mechanical and electrical consultant Norman Disney Young
Silk-screen artist Angela Ferolla
Structural consultant Santillo Engineering

Site Details

Location Fremantle, WA, Australia

Project Details

Status Built
Category Public / commercial
Type Restaurants

Source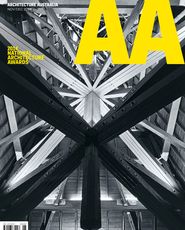 Issue
Architecture Australia, November 2014
Related topics