Jury citation
The Commons takes medium-density living in a groundbreaking new direction. Conceived as a flagship triple-bottom-line residential development, the project is about building an urban community and striking a balance between affordability, sustainability and liveability, where the focus is on people rather than architectural form.
Located in Brunswick, Melbourne, The Commons overflows with sustainable initiatives: instead of car parking, the building provides racks for seventy-two bikes and an adjacent car share space, as well as immediate proximity to a train station and bike path. Sustainability and affordability have been approached by reduction – no airconditioning, no second bathrooms and no individual laundries – instead, a communal rooftop laundry and sheltered drying area have been included. Materials are stripped back: no plasterboard ceilings, no chrome, no toxic finishes and off-gassing and no imported timbers.
However, this project is not just about stripping back. It also gives its residents great balcony gardens, fabulous rooftop vegie patches with wide-open views, cross ventilation and natural light throughout. Where important, top-performing products such as double-glazed thermally broken windows and sliding doors with high performance seals have been used.
Services are simple and sensible, reducing energy use and contributing to cost savings. From a photovoltaic array to a shared hydronic heating boiler and shared solar hot water system … the list goes on.
Even though it achieves an average 7.5 Star Green Star Rating, The Commons makes a clear statement that sustainability is about much more than just ratings – it is also about affordability, liveability, longevity and a great sense of community. The project nails environmental and social sustainability and is a commercial success and, with all but three of its apartments owner-occupied, it is clear that people want to live there. The Commons is a real leader and sets a brilliant example for other residential developments.
Credits
Architect

Breathe Architecture
Melbourne, Vic, Australia
Project Team

Bonnie Herring (project architect), Jeremy McLeod (design architect), Robert Kolak, Kai Cheong, Uscha Van Banning, Peter Wise
Consultants

Builder Ficus Constructions, Kubic Constructions
Engineer O'Neill Group
Graphic design Tony Stewart
Landscape Landspace
Services and structural consultant O'Neill Group

Site Details

Location Melbourne, Vic, Australia

Project Details

Status Built
Category Residential
Type Apartments, Multi-residential

Source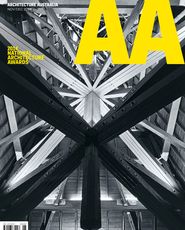 Issue
Architecture Australia, November 2014
Related topics