Jury citation
The Commons revolutionizes apartment living in Australia by demonstrating what can be achieved by architecture through passion, commitment and tenacity.
Located in the Melbourne suburb of Brunswick – only metres away from Anstey train station, a bike path and local tram – The Commons takes a bold step in eliminating what "the market" insists is necessary in multi-residential design: car parking, sumptuous materials and mechanical cooling. The approach has been positively reductive, questioning what is really needed. Plastered ceilings, balcony soffits and bathroom tiles have all been strategically eliminated to reveal the architectural bones and veins of the building.
Surrounded by rapid medium-density growth, ground-floor tenancies including a cafe replace what would typically be used for car park access, activating the ground plane. Two artist's studios, racks for seventy-two bikes and apartment storage occupy the rest of the floor.
Uncomplicated apartment plans occupy four levels of the building: sixteen two-bedroom and eight one-bedroom apartments. Two acoustically treated light wells deep in the building plan provide access to natural light and ventilation and successfully cool the apartments throughout summer with the assistance of ceiling fans. Apartment balconies activate the facade and benefit from either northern orientation or superb city-skyline views to the south.
The hidden gem is the rooftop, an expansive social space for the occupants that enhances the community spirit of the building. A communal laundry room on the roof is the social glue of the building in which residents chat over domestic chores. A generous pergola-like clothes drying rack recedes from view to preserve the enviable 360-degree views and ambience of the terrace. Individual garden plots are allocated to each apartment, providing a bounty of produce for occupants to share.
The Commons is a refreshing new direction in medium-density living. This project demonstrates how singles, young families and retirees alike can comfortably and sustainably live a rich life in our expanding cities.
Credits
Architect

Breathe Architecture
Melbourne, Vic, Australia
Project Team

Bonnie Herring (project architect), Jeremy McLeod (design architect), Robert Kolak, Kai Cheong, Uscha Van Banning, Peter Wise
Consultants

Builder Ficus Constructions, Kubic Constructions
Engineer O'Neill Group
Graphic design Tony Stewart
Landscape Landspace
Services and structural consultant O'Neill Group

Site details

Location Melbourne, Vic, Australia
Category Residential
Type Apartments, Multi-residential, Residential

Project Details

Status Built

Source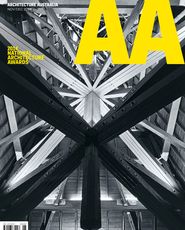 Issue
Architecture Australia, November 2014
Related topics