Jury citation
Located in a prominent position near Circular Quay, this building operated as a police station from 1882 until 1974. It is an imposing building with a commanding facade. Its original interior, spread over two levels, comprised a series of small rooms and prisoners' cells linked by a central corridor. At the rear it opens onto Nurses Walk, part of the network of pedestrian laneways that wind through The Rocks.
The conversion of the building into a now charming restaurant must have been challenging for the architects, who were required to keep the historic cells and much of the building's internal spaces intact for heritage reasons. The architects have been particularly skilful in the insertion of functional kitchens, services, lifts and dining areas, while also resolving complex accessibility and compliance issues.
The design uses part of the easement of Nurses Walk to enable a successful contemporary addition in the form of a glazed verandah. This has eased internal congestion by allowing part of the circulation, services and kitchen access to be relocated to the rear.
This is a delightful renovation and reinvention of the building. Great care and imagination have also been used in the interiors, recovering heritage finishes and colours, further adding to the successful outcome of the project.
Source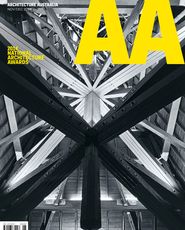 Issue
Architecture Australia, November 2014
Related topics