Jury citation
At Garangula Gallery, the architects were given an extraordinary brief from a private client to develop what has become a very special project and experience in a rural community. The brief was simple: a gallery for one hundred Australian artworks and a table to entertain one hundred dinner guests. The space has been exceptionally well designed to beautifully house a private collection of Indigenous and non-Indigenous artwork and artefacts, with the flexibility and functionality to host exhibitions, large or intimate dinners and special events. To combine an art collection with such diverse uses creates an appropriate sense of occasion and a unique way to appreciate the gallery and its contents.
The architects have exercised restraint and thoughtfulness in the choice of materials. Rammed earth, stone, Corten steel and recycled timber are natural and appropriate choices for the rural setting of rolling hills and grasslands. The interior is beautifully detailed and the principal gallery spaces, which have dark painted walls and bright pools of light for the artworks, have a cave-like quality, echoing the spaces in which Indigenous artworks were first created. Furniture is thoughtfully custom-designed, skilfully complementing the interior space. Sited at an elevated position, the southern side of the building has a strong connection to the outside, framing a spectacular view of the landscape.
The combined effect of thoughtful siting and sense of place, a beautifully detailed interior and a considered material palette makes this a special and memorable place. Garangula Gallery is a truly remarkable experience: it creates a sense of occasion, functionally and metaphorically, and is a place that celebrates Australian art and landscape.
Credits
Architect

Fender Katsalidis Mirams Architects
Sydney, NSW, Australia
Project Team

Gideon Reiss (project architect), Martin Dudasko (design architect), Robert Mirams (project director), Andre Braun, Anna Moldt, Craig Chand, Jackson Cran eld, Kurt Schilling, Pablo Villarino, Peter Eppel, Stacey Bark, Steve Gartsky (documentation)
Consultants

Art curator Margo Neale
Builder Manteena
Building art Jonathan Jones
Civil and structural consultant Robert Bird Group
Construction manager Lou Agnello
Facade Cardno
Hydraulic consultant Arup
Interior designer Fender Katsalidis Mirams Architects
Landscape consultant Tract Consultants
Lighting consultant Arup
Lighting consultant (sculptures) Electrolight
Pivot wall structure Cardno
Project director Rod Mitton
Project manager Kirk Staniland
Services consultant Arup
Signage Emery Studio
Timber screen graphic There
Water Feature Waterforms International, DCG Design

Site Details
Project Details

Status Built
Completion date 2013
Category Public / commercial
Type Culture / arts

Source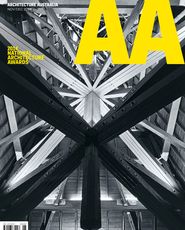 Issue
Architecture Australia, November 2014
Related topics