Jury citation
The architects have clearly exceeded expectation in this ingenious redevelopment of the former Mitsubishi Main Assembly Building at Tonsley Park, creating a well-crafted learning facility for trade students. The brief required a contemporary training institution that amalgamated and rationalized programs from five separate TAFE colleges from across Adelaide.
The original strategy had been for a new building, but the client leapt at the opportunity to use the Main Assembly Building, the space and volume of which could be adapted within the available budget. The former factory building has a remarkable scale with plentiful natural light filtering through its sawtooth roof, and the new interior sits within it like a small town or campus. The plan is organized around a group of two-storey wings containing classrooms, offices and amenities, while in the centre is a grand forum. High bay areas sit between and beyond the two-storey wings, with ample volume for all forms of practical trades training, from bricklaying and plastering to decorating and musical instrument making. This project is as much urban design as it is interior architecture. The outcome fosters innovation, encourages synergy across programs and opens up opportunities for teaching and learning.
The whole project is open and transparent, furnished to provide detail and warmth without being lavish, and complemented by the effective use of colour and finishes. While not so obvious as to feel contrived, every detail has didactic purpose. The use of materials, particularly steel and glass, promotes transparency between staff and students, while the thoughtful open floor plan allows students to see what other trades are doing, encouraging connectivity and interaction.
The building's former life is celebrated and old and new have been carefully layered, demonstrating the architect's appreciation of the existing structure. It is fitting that what was once a process and assembly facility can now so effectively demonstrate to students the advantages of trades working side by side and the lessons they can learn from one another.
Credits
Architect

MPH Architects
Adelaide, SA, Australia
Project Team

Peter Hoare (project architect), Tony Materne (design architect), Carlo Pennino, Thomas Hansen, Vicki Jacobs, Tonia Mudie, Sally Bostock, Diana Thompson, Matt Spinaze, Daniel Pike, James Jones
Architect

Architectus
Australia
Consultants

Acoustic consultant AECOM
Builder Baulderstone
Building certifier Katnich Dodd
Building surveyor Davis Langdon
Cost consultant Rider Levett Bucknall – Melbourne
Education consultant Rubida
Environmental consultant AECOM
Risk management SA Department of Planing, Transport & Infrastructure
Services consultant WSP Group
Structural consultant GHD

Site details

Location Adelaide, SA, Australia
Category Interiors
Type Education, Schools

Project Details

Status Built
Completion date 2013

Source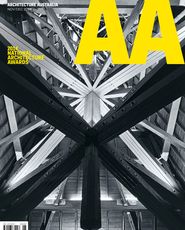 Issue
Architecture Australia, November 2014
Related topics