Jury citation
Bread in Common is a magical space to be in. Warm, inviting and relaxed, it immediately feels good. For the most part, guests are seated at long refectory-like tables, as if in an audience. These are beautifully designed, and replace the idea that a restaurant is a furniture showroom with one in which the food rules. The cavernous space should be an acoustic nightmare, but through clever design it isn't – here, conversations can happen.
Looking around and up into the space, the old rusted tin roof is still there, deftly retained and covered with another roof, but now with skylights that let shafts of light punch through for a lunch setting.
Old industrial fittings are retained down a long wall behind the bar. Food, produce, wine and menus are all on display in the space, like a stage set. The meal becomes Act Two of the enfolding opera. Weathered old brick walls are stripped back and, like an orchestra pit, the display kitchen at the front of the restaurant narrates a subplot of food preparation. The kitchen has its own remarkable and random lighting and a stage manager's porthole from which to secretly survey the audience.
New structures in grey rammed earth house facilities and a small slot courtyard draws daylight into bathrooms. Lighting in the main dining space is expertly handled: scores of Edison lamps with wires and conduits exposed with true and appropriate industrial rigour illuminate the space, adding a touch of theatrical vigour.
Bread in Common is a highly successful architectural interior, which rivals the best architectural restaurant interior offerings in the country, if not the world. It celebrates food, cooking, architecture, interiors, lighting, heritage and the whole theatre of it all.
Credits
Architect

Spaceagency Architects
Fremantle, WA, Australia
Consultants

Acoustic consultant Norman Disney Young
Builder Texo WA
Commercial kitchen Hisco
Fitout & cabinetwork Professional Innovators
Furniture designer Paul Morris-Join
Hydraulic, mechanical and electrical consultant Norman Disney Young
Silk-screen artist Angela Ferolla
Structural consultant Santillo Engineering

Site Details

Location Fremantle, WA, Australia

Project Details

Status Built
Category Public / commercial
Type Restaurants

Source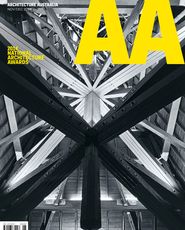 Issue
Architecture Australia, November 2014
Related topics