Jury citation
March Studio has created an exciting and original design experience in the lobby, bar and restaurant of Hotel Hotel in the NewActon precinct, representing a thrilling paradigm shift in the design of public space in Canberra.
A seamless connection has been designed between the Hotel Hotel lobby and the public spaces that service office accommodation, cinemas and cafes. On entering the ground-floor lobby, restaurant and bar, visitors are awe-struck by a beautiful and exciting artwork of repurposed timber created by the architects, artists and artisans. Thousands of lengths of recycled timber have been painstakingly assembled to create a grand staircase, which filters light and elevates the experience of the space beyond one of mere passage.
Throughout the lobby, thoughtful and subtle lighting, materiality and tactility underpin the total spatial experience. Timber and precast concrete beams have been simply stacked and left unadorned. The walls, seating, benches and counters are admirably treated in a manner that celebrates the beauty and seductive quality of the handmade. Minimal and discreet partition elements divide a large space into a series of smaller and more intimate areas – each with its own mood – providing visitors with a range of experiences.
The architects are to be congratulated for the highly collaborative way they have worked with both the client and a diverse range of talented contributors. They have successfully brought together many potentially competing elements into a strong and unified composition.
Read the project review by Maitiú Ward from Artichoke.
Products and materials
Walls and ceilings

Hotel rooms' internal walls are in three designs: off-form concrete with ribbed and hammered finish; bespoke clay render with hemp, aggregate and pigment (developed by Don Cameron and Rockcote); and various natural fibre walls made from grass, cork and hessian and sourced through South Pacific Fabrics and The Textile Company. Lobby and entry features concrete lintels from Ultrafloor, blackbutt timber battens, Cube acoustic insulation panels in 'Onyx' from Autex, Ceminseal BareStone fibre cement sheet from Cemintel, custom perforated blackened steel panels.
Windows

Hotel rooms feature Blockout roller blinds, with automation by Chernway. Aesop curtain fabric from Warwick Fabrics. Lobby and entry features VFloat toughened glazing from Viridian, custom-made steel frames with Dulux Ferrodor finish, and SmartTech Tilt windows. Timber hotel room windows by Paarhammer.
Doors

Hotel room doors painted in Resene 'Double Gravel.' Lobby and entry feature custom blackened steel, with penetrol finish and VFloat glass inserts from Viridian; automatic frameless glazed sliding door from Dorma.
Flooring

Hotel rooms feature custom-weave Berber carpet. Lobby and entry features blackbutt floorboards, burnished concrete, concrete lintels from Ultrafloor and velour carpet in 'Bondage' from Supertuft.
Lighting

Hotel rooms feature custom-made bedside, desk, floor, bathroom mirror, corridor louvred and pendant lighting designed by Don Cameron and manufactured by Nocturnal Lighting and Berczi Copper Company. Glass pendant light in hotel rooms designed and hand blown by Amos Enders-Moje.
Furniture

Bespoke cabinetry in hotel rooms designed by Don Cameron and fabricated by Gecko Joinery using ancient Romanian oak salvaged from Loire Valley, France and imported by The Salvage Company. Bed heads, consoles, banquettes, three-way side table, dining table and wardrobes in hotel rooms designed by Don Cameron. Editioned hotel room furniture designed by Don Cameron, fabricated by Berczi Copper Company. Upholstery from Atelier Design Furniture, with fabrics by South Pacific Fabrics and Edra and leather by Instyle.Side tables, coffee tables and hairy desk chairs in hotel rooms designed by Don Cameron with Ken Neale. Vintage furniture and applied arts in hotel rooms and on ground floor sourced and curated by Don Cameron. Side table, coffee table, hoop stool and rag rug stool on ground floor designed by Don Cameron with Ken Neale. Patinated brass communal tables designed by Don Cameron and manufactured by Berczi Copper Company. Feasting table, chairs and stools in hotel restaurant and bar, concrete benches in public spaces around hotel, and wooden bowls in all hotel rooms, all by Broached Commissions with Adam Goodrum. Couches in hotel foyer by Broached Commissions with Charles Wilson. Lenticular mirror (reception desk feature wall) by Broached Commissions with Lucy McRae.
Bathroom

Hotel rooms feature Astra Walker bathroom mixers; Rogerseller basins; custom-made concrete baths from Boyd Alternatives; quartzite benchtops from SNB Stone; and tiles from Onsite Supply & Design.
Credits
Developer

Molonglo Group
Canberra, ACT, Australia
Consultants

Artists and designers Lucy McCrae, Anna-Wili Highfield, Charles Wilson, Adam Goodrum, Amos Enders-Moje, Al Stark, Lee Grant, Gerard Havekes, Kris Coad.
Base building architect Fender Katsalidis Architects, Suppose Design Office
Base building services and ESD Arup
Bespoke furniture Broached Commissions
Building certifier ACT Metropolitan
Building civil engineer Mott MacDonald
Building structural engineer AWT Consulting Engineers
Graphic design & signage Clear Design & Brand Strategy, Studio Round
Hotel room design Don Cameron and Molonglo Group
Kitchen design RBD Consulting
Landscape architect Oculus Landscape Architecture & Urban Design
Lobby and entry March Studio
Lobby and entry builder CBD Contracting
Lobby and entry engineer Co-Struct
Lobby and entry lighting Point of View
Project management Molonglo Group

Site Details

Location Canberra, ACT, Australia

Project Details

Status Built
Design, documentation 18 months
Construction 18 months
Category Hospitality, Interiors
Type Hotels / accommodation

Source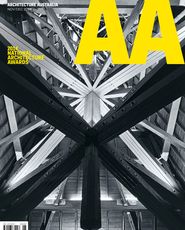 Issue
Architecture Australia, November 2014
Related topics