Jury citation
This project is as much about symbolism as it is about function. For a site located in remote highland jungle in Borneo, the brief was to provide shelter for the manager and staff of a private regrowth forestry company that has stewardship over the local land. Equally important was the building's role in sending messages of craft, care and environmental stewardship to the wider community.
The architects have skilfully met both elements of the brief by creating an unassuming, zero-energy house that addresses the challenges of remoteness and climate. The design fits well with the regional vernacular, having been built using modular timber construction and other local materials. Its simple construction also helped the architects overcome many of the challenges of its remote location, including lack of infrastructure and few skilled builders. Nonetheless, through thoughtful design and skilful engineering, the project achieves important sustainability ambitions, maximizing efficiency and minimizing cost. One example is the long verandah overlooking the jungle, which provides a valuable setting for its occupants to gather and converse while enjoying the views, as well as protecting interior spaces from heat gain.
The final result of this project, based on smart design, engineering and collaboration, is a low-cost and self-sufficient building that does much more than simply meet the functional requirements of its users. It sits with elegance and raw beauty in its surrounds and the wider community. This project is an excellent example of design and construction in remote locations with limited resources.
Credits
Architect

Marra & Yeh Architects
Sydney, NSW, Australia
Project Team

Ken Yeh (project architect), Carol Marra (design architect), Goldie Peligrino (documentation)
Consultants

Anthropologist Professor Yao Souchou
Botanist and forestry Dr Francis Ng
Builder Salvador Paler
Project manager Marra & Yeh Architects
Structural consultant Professor Max Irvine

Site Details
Project Details

Status Built
Category Public / commercial
Type Conservation

Source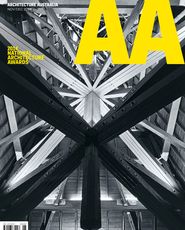 Issue
Architecture Australia, November 2014
Related topics