Jury citation
More than one million people visit Stonehenge every year, placing immense stress on one of the world's most important archaeological sites. The site's public facilities had grown in an ad hoc way over many decades and there had been several failed attempts to resolve the unsatisfactory arrangement. This important project finally finds a resolution for the site. Designing the Exhibition and Visitor Centre for this ancient UNESCO World Heritage site is a significant responsibility and Denton Corker Marshall has achieved it with grace and gentleness, ensuring most importantly that the facility does not dominate the site. The centre is placed 2.5 kilometres west of the stones, connected to the monument by a shuttle path but remaining out of sight from it.
The architectural composition is centred on a pair of single-storey pods, one timber and the other glass. These pods shelter beneath a sweeping canopy roof supported by slender angled stick columns, its edges perforated to cast dappled light on the forms beneath. The metal roof undulates to reflect the rolling landscape of Salisbury Plain, while the thin columns resonate with the nearby forest. The glass pod houses the cafe, shop and education space, and the solid timber pod contains the exhibition, information space and toilets. Service areas and staff facilities are placed in a low ancillary building behind trees that hide the coach parking.
The project harnesses a suite of measures to minimize its environmental footprint. These include extensive natural ventilation, natural light, open-loop ground source heat pumps, passive shading, bore water supply and on-site sewerage treatment. Most importantly, the centre is designed to be reversible, meaning that it can be removed in the future with minimal impact on the landscape.
This is a masterful work of architecture, both timeless and poetic. It sits with authority in the historic landscape, with facilities that help develop a better understanding of Stonehenge and its place in world history.
Read the project review by John MacArthur from Architecture Australia.
Source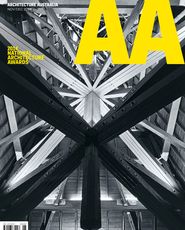 Issue
Architecture Australia, November 2014
Related topics