Jury citation
The jury was delighted by this playful and vibrant primary school in the northern suburbs of Melbourne. Teaching staff who joined the jury on the day bubbled with enthusiasm for a project that not only works brilliantly as a school but is also transforming a community. The architects have overcome constraints in terms of budget, social issues and demographic diversity to achieve a design that is truly inspiring as well as pragmatic in its fulfilment of the brief. The school has been designed as a walled "citadel" that links communal teaching spaces through open courtyards, each with its own personality and purpose. The planning of the teaching spaces is based on a cyclical model – a legible sequence – so that physical progression through the school reflects children's educational progression from the early learning centre to the final primary school years.
Other facilities include a school hall with performance facilities, major gymnasium, large community kitchen and gathering area, food technology area, broadcast studio and adult learning areas. The plan form and the orientation of windows and doors have been designed to encourage natural ventilation.
The curving wall around the school is a bold civic gesture, with vibrantly coloured glazed brickwork and a memorable silhouette that takes cues from familiar forms in the area: house roofs, factories and places of worship. It is a truly memorable public building. The community is home to a large immigrant population from Turkey, Iraq, Lebanon and Sudan and the project responds to this diversity. Many families have escaped troubled homelands and this building gives parents peace of mind that their children will be safe during the day. The building fosters a unique approach to education and has produced a focal point for the area and a symbol of the suburb's potential.
Source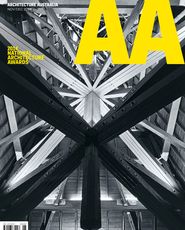 Issue
Architecture Australia, November 2014
Related topics