Jury citation
The new Institute for Marine & Antarctic Studies (IMAS) adds richness to the historic and much-loved Salamanca Place precinct of Hobart, providing the University of Tasmania with a strong public presence in the centre of the city.
Located on Princes Wharf No 2 in Sullivans Cove, the building celebrates its spectacular waterfront location and is thoughtfully and sensitively positioned to embrace its urban context. The gabled roof form references other industrial and wharf buildings around the cove. The western end is sliced off, opening the building to the public domain and revealing an upper-level balcony that looks back to the city and Mount Wellington. The building is wrapped in a tight skin of zinc and glass, with openings that generously reveal many of its inner workings including laboratories, galleries and services.
IMAS has a complex functional brief for research laboratories, teaching spaces, workshops, offices and all the ancillary support needed for a major scientific institute. Plan and section organize this complexity around an elegant linear diagram, with banks of laboratories on the southern side and more open spaces on the north, looking out over the water. The public entrance opens to an exhibition area that welcomes visitors to the world of marine and Antarctic studies. Alongside is an exceptional auditorium with an exquisitely detailed mechanized screen opening to the waterfront promenade. The overlapping perforated panels cast a mesmerizing shadow as they open and close in the winter sun.
The building is highly serviced, but incorporates a range of active and passive strategies to minimize energy use. At its core is a closed-loop heat exchange using water from the adjacent river for heating and cooling.
Forty percent of Australia's marine science research is undertaken in Tasmania, with much of our nation's considerable strength in marine and Antarctic science now located in this important and thoughtfully designed building.
Read the project review by Jeff Malpas from Architecture Australia.
Credits
Architect

John Wardle Architects
Melbourne, Vic, Australia
Project Team

John Wardle, Stefan Mee, Meaghan Dwyer, Bill Krotiris, Andrew Wong, Scott Balmforth, Lucinda Mason, Chris Clinton, Martin Allen, Jeff Arnold, Paul Bickell, Andrew Green, Barry Hayes, Bill Kalavriotis, Elisabetta Zanella
Architect

Terroir
Australia
Consultants

Acoustic consultant Marshall Day Acoustics
Aquis certifier Neil Walls Consulting
Building surveyor Lee Tyers and Associates
Coordinating Engineer Lee Tyers and Associates
Cost consultant Aquenta Consulting
ESD and services Umow Lai
Facade engineer Inhabit
Heritage consultant Bryce Raworth
Laboratory Planning Brian Griffin Architect
Managing contractor John Holland Group
OHS and design risk consultant Davis Langdon
Planner Ireneinc Planning
Structural and civil engineer Gandy and Roberts Consulting Engineers
Urban design Leigh Woolley

Site Details

Location Hobart, Tas, Australia

Project Details

Status Built
Category Public / cultural

Source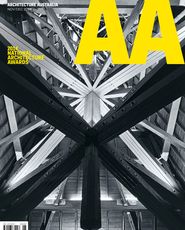 Issue
Architecture Australia, November 2014
Related topics