Jury citation
Perched high on a steep block, the Southern Outlet House borrows its name from the Launceston arterial road below and offers a bold statement to passers-by travelling at speed as well as to those living on the hill opposite.
In this project, the architect questions the role of the house in the public domain. Rather than recede, this house is vocal like a billboard or a piece of public art.
This is a resourceful house built with the architect's own hands for his young family, with the assistance of family and friends. Material selection and detail have been dictated by the skill level of the labour. The external cladding on the highway side uses colour-blocked panelling arranged in dynamic patterns in a nod to the "dazzle" of Navy ships – a camouflage technique used to adjust scale and add dimension to an otherwise flat facade. This visual effect also acknowledges passengers in vehicles travelling at speed. Internally, a playful material palette celebrates colour and texture.
The split levels create a delightful children's bedroom zone below with the main bedroom above. A high ceiling in the living space permits a sunken lounge to nestle under an elevated study, thereby maximizing the house's tight footprint and budget.
This modest house is a reflection of the adventurous architect/builder/client. Rich in exploration, Southern Outlet House challenges expectations of what can be achieved on a highly visible, regional domestic site.
Credits
Architect

Philip M Dingemanse
Tas, Australia
Project Team

Philip M Dingemanse
Consultants

Builder Philip M. Dingemanse, E.F. & C.A. Dingemanse
Structural consultant GHD

Site Details

Category Residential
Type New houses

Project Details

Status Built
Completion date 2014

Source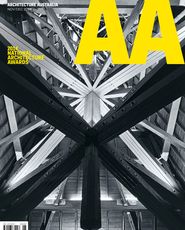 Issue
Architecture Australia, November 2014
Related topics