Jury citation
Located on a picturesque rural site in Victoria, House at Hanging Rock nestles into the steep slope with a view to its namesake. The house is divided into three parallel terraces, each in step with the landscape. Raw insulated precast concrete walls define the terraces and draw the eye through the house to the old-growth forest to the east. Narrow timber shutters within the walls artfully connect the prefabricated panels and allow for cross ventilation and views to the valley.
The widest of the three terraces houses the central living zone and overlaps with the outer two terraces, creating a series of interconnected living spaces that are experienced as one larger space. Changes in floor height are exploited as thoughtful, informal seating moments and display areas for the client's extensive art collection.
Dedicated circulation space is limited to the compressed entry foyer, heightening the sense of delight when entering the living space. Elsewhere passage is from room to room, further enhancing the spatial efficiency of the plan.
An elegant, sloping rhomboid roof covers the whole building, uniting the terraces, providing generous covered outdoor areas and further blurring the line between house and landscape. The sloped building form appears vastly different looking up from the valley compared with approaching from the side.
Stringent bushfire requirements are seamlessly integrated and inform the brutalist approach to material selection. The restrained interior material palette of concrete, Armourply and Formply is meticulously detailed yet remains humble and appropriate to the rural setting.
This is an intimate house with a sheltering interior in which you can linger and enjoy the distant view of Hanging Rock.
Credits
Architect

Kerstin Thompson Architects
Melbourne, Vic, Australia
Project Team

Hanging Rock. ARCHITECT Kerstin Thompson Architects / project team: Kerstin Thompson (design architect); Kelley Mackay, Lynn Chew, Scott Diener (project architects); Jacqui Alexander (graduate architect); Laura Harrison (student architect)
Consultants

Builder TM Scanlon Builders
Building surveyor Philip Chun & Associates
Cost consultant Construction Planing & Economics
Landscape consultant Kerstin Thompson Architects
Landscaping The Landscape View
Planting consultant Tarquin Dunn
Structural consultant Lambert & Rehbein

Site Details
Project Details

Status Built
Completion date 2014
Category Residential
Type New houses

Source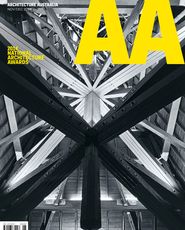 Issue
Architecture Australia, November 2014
Related topics