Jury citation
Utterly simple and breathtakingly beautiful in its execution, the twenty-four-square-metre Kew Studio is a pavilion housing a room that can be a bedroom, study or library, and a rooftop terrace.
The pavilion appears from the street like a rusted steel cube some 6.5 metres high, sitting like a large sculpture in the garden of the architect's existing house. The siting of the pavilion is a skilful planning manoeuvre, as it masks unwanted views of neighbouring houses, describes a courtyard space at the rear of the property and enhances the entrance to both the existing house and to the pavilion itself.
Clad in Corten steel, with discreet slots that open to reveal an entrance or a window, the pavilion sits on a platform at the same level as the original house. The mass of the pavilion is expressed over two storeys from the street below, comprising a lofty main habitable level and a roof terrace hidden behind high, pivoting steel panels. When closed, the wall panels at the terrace transform that space into a private external room.
The architect's stated strategy of opposing his existing "veiled" house with the monolithic addition of the studio has worked elegantly, as has his contrast of the horizontality of the original house with the new, more vertical structure.
Further reinforcing this dialogue between the older and the more recent, perhaps as between a father and son, is the interior of the pavilion. This high-ceilinged room is a private and contemplative space, minimally furnished, in which the intrusion of daylight is beautifully measured and controlled. Simple but rich steel surfaces, a high wall for shelves of books and framed views all give rise to a broody yet warm and inviting interior, evoking a sense of a safe haven or a place in which to escape.
Every aspect of the pavilion, from its siting, its robust and raw finishes and its utterly simple planning to the discipline evident in the detailing, was quite remarkable and an obvious labour of passion.
Credits
Architect

Sean Godsell Architects
Melbourne, Vic, Australia
Project Team

Sean Godsell (design architect)
Consultants

Builder Sargant Construction
Building surveyor Wilsmore Nelson
Structural consultant Perrett Simpson

Site Details

Location Melbourne, Vic, Australia

Project Details

Status Built
Completion date 2013
Category Residential
Type Small projects, Studios

Source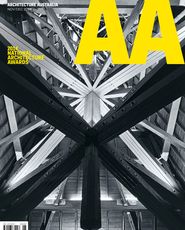 Issue
Architecture Australia, November 2014
Related topics