Jury citation
This project is located in a tiered 1970s apartment building in Balmain, overlooking Sydney Harbour. The original sixty-three-square-metre apartment was adequate but limited, divided into three cramped living, dining and bedroom spaces that failed to celebrate the terrace and wonderful view, and no longer met the changed needs of the owners. A low ceiling only made matters worse.
What has resulted is a beautiful architectural intervention, rather than an interior design, full of intriguing design layers and consideration. It is immediately clear that the architect and the owners have hit it off. The story of the design stemmed from the architect's studies of Corbusian interiors and then evolved into a carefully developed series of spaces, walls, openings, surfaces and objects which come together much as a well-curated exhibition does, though this time telling the story of the owners, their possessions and of course the view.
Several main moves have taken place: a wall has been removed from the centre of the living spaces and a light and elegant structure replaces it; a datum line has been introduced to bring the eye to a level at which joinery meets the walls; and in the new open living space, windows can slide away to reveal a completely open terrace, which then becomes more of an extension of the internal space than a conventional balcony. The ceiling also is "separated," and seems to float.
A sequence of small but delicate manoeuvres follows. Small spaces are delineated by remarkable splashes of strong colour. In one curved alcove, a beautifully lit yellow sculpture hangs before a deep pink wall, the shadow of the sculpture creating a gallery-like focus to the apartment. In the all-white bathroom, a wide green-tiled shower is top-lit and continues the exploration in colour.
The jury was highly impressed by the thoroughness and rigour of this intellectual design, and the handcrafted nature of the transformed apartment.
Credits
Architect

Durbach Block Jaggers Architects
Sydney, NSW, Australia
Project Team

Deborah Hodge (project architect), Erin Field (design architect), Camilla Block (design director)
Consultants

Builder Chris Field, CWF Constructions
Certifier John J. Briggs Associates
Planner Mersonn Pty Ltd
Structural consultant Andrew Simpson, SDA Structures

Site Details

Location Balmain, Sydney, NSW, Australia

Project Details

Status Built
Completion date 2014
Category Interiors
Type Alts and adds, Apartments, Small projects

Source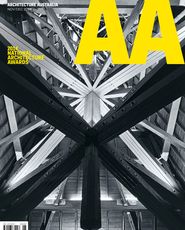 Issue
Architecture Australia, November 2014
Related topics